Pavlova Christmas Tree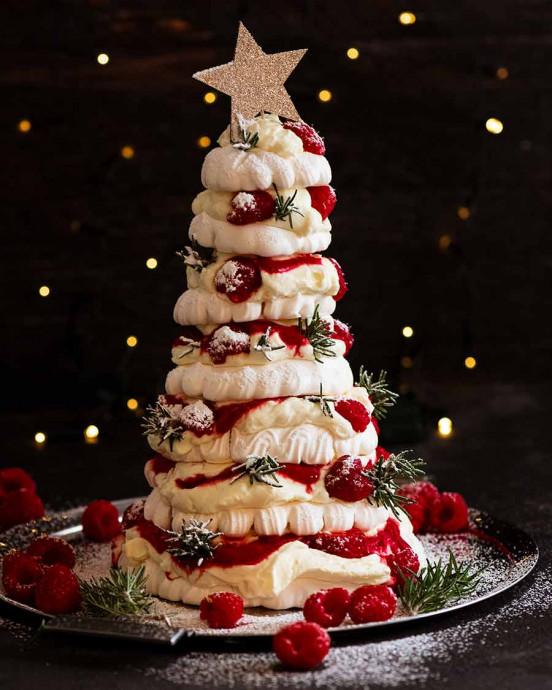 The grandest of all Pavlovas!!! With the signature delicate meringue crust and marshmallowy insides, all smothered in cream and berries just like a traditional Pav. More straightforward to make and more stable to stand than you'd expect, the Pav and Coulis can be made the day before.
Get the little ones involved building it! Prepare the Pav ahead … Work together to build it.
Then stand back and admire the beauty that is the grandest of all Pavlovas to grace your Christmas table!!!
Ingredients:
PAVLOVA:
2/3 cup egg whites from 5 – 6 large eggs, at room temperature
1 1/4 cups caster sugar (superfine white sugar)
2 1/2 tsp cornflour/cornstarch
1 1/4 tsp white vinegar
RASPBERRY COULIS (OR STRAWBERRY):
250g / 8oz frozen or fresh raspberries (no need to thaw)
2 tbsp caster sugar (superfine white sugar)
WHIPPED CREAM:
2 cups thickened/heavy cream
2 tsp vanilla extract
1 tbsp caster sugar (superfine white sugar)
TO BUILD:
28cm/ 11" bamboo skewer – or 2 shorter skewers
10 strawberries , medium, cut into 1.75cm / 3/4″ rounds ("Strawberry Pillars")
12 strawberries cut into 1cm dices (for scattering between layers)
DECORATING:
Christmas tree star topper , edible or not, sticky taped to a toothpick
125g/ 4oz raspberries
16 small sprigs of rosemary
2 tbsp icing sugar/powdered sugar , for dusting
SERVING:
More strawberries (diced), raspberries, blueberries, and any other fruit you fancy!