British Christmas Pudding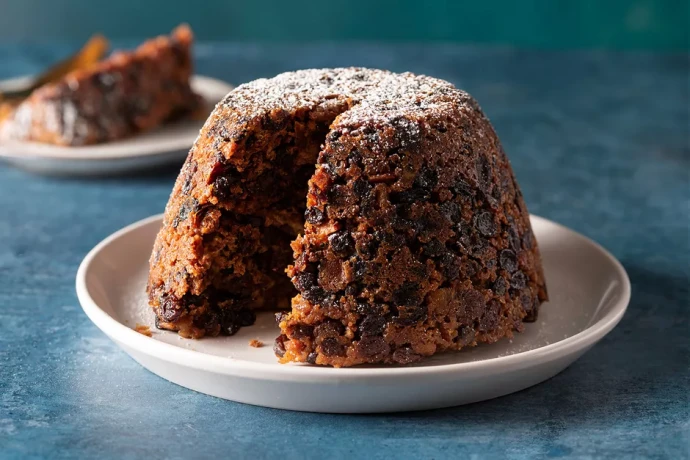 No British Christmas is complete without a Christmas pudding. Unlike American puddings, a Christmas pudding is a dark, sticky, and dense sponge, more like a fruitcake, made of mixed dried fruit, candied fruit peel, apple, and citrus zests. Brandy and spices provide a deep, complex flavor and signature dark color.
Although the number of ingredients may seem daunting, if you prep everything ahead of time, the recipe will come together easily. Christmas pudding is best made well in advance; eating the pudding immediately after cooking will cause it to collapse, and the flavors will not have had time to mature. Traditionally, the dessert is made on "Stir-up Sunday," the Sunday before Advent around the end of November, where families gather to stir the mixture, make a wish, and add a few coins to the batter.
Ingredients:
1 pound/450 grams (3 to 3 1/2 cups) mixed dried fruit
25 grams (scant 1/2 cup) mixed candied fruit peel, finely chopped
1 small cooking apple, peeled, cored, and finely chopped
1 tablespoon orange zest
1/2 tablespoon lemon zest
2 tablespoons fresh orange juice
1 tablespoon fresh lemon juice
1/4 cup brandy, more as needed
55 grams (1/2 cup) self-rising flour, sifted
1 teaspoon ground mixed spice
1 1/2 teaspoons ground cinnamon
110 grams (about 1 cup) beef or vegetarian suet, shredded
110 grams (scant 2/3 cup) dark brown sugar, packed
110 grams (1 cup) fresh breadcrumbs
25 grams (1/4 cup) whole almonds, coarsely chopped
2 large eggs