Eggnog Cheesecake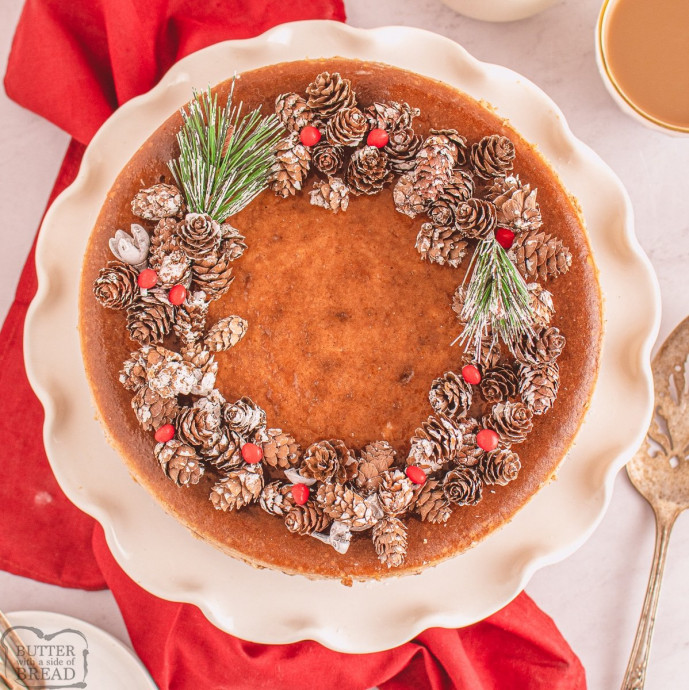 Eggnog cheesecake made with a gingersnap crust, fresh nutmeg & your favorite eggnog! Smooth & creamy cheesecake recipe blends the best holiday flavors for a delightful, festive eggnog dessert.
We use actual eggnog in this recipe as well as some other ingredients to help capture the essence and flavor of this holiday drink in this pie. You're going to love how easy it is to make this festive cheesecake recipe.
This cheesecake is an incredibly soft and decadent dessert that is filled with the perfect amount of eggnog flavor and set in a gingersnap crust. The crust is crunchy and well-spiced while the filling is a perfect blend of rich, creamy, tangy cheesecake and rum. The fresh nutmeg is like a star on top making the dessert really shine.
Ingredients:
Crust:
2 cups gingersnap crumbs
¼ cup brown sugar
5 ½ TBSP melted butter
Cheesecake:
32 oz cream cheese
1 ⅔ cup sugar
3 eggs
2 egg yolks
1 cup eggnog
¼ cup plain yogurt
2 ¾ Tbsp flour
2 ½ tsp cinnamon
1 ½ tsp rum extract
½ tsp fresh ground nutmeg