Christmas Baked Salmon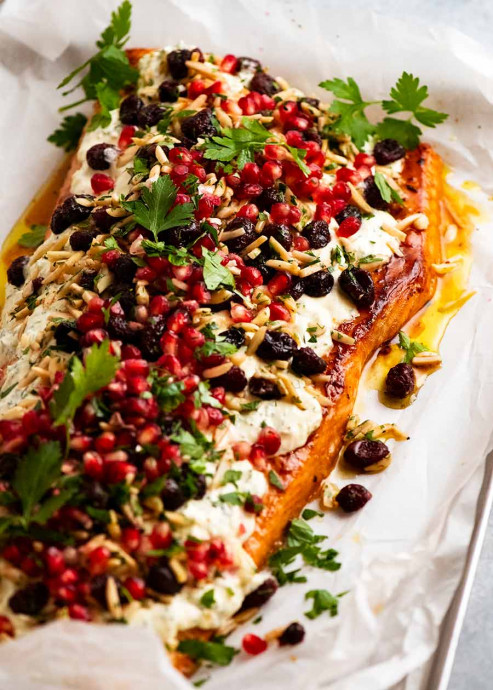 Your Christmas main dish for this year has just landed!! Have you ever seen a Baked Salmon look so festive?? Featuring a honey butter-glazed side of salmon baked in foil, slathered with creamy dill sauce and finally topped with a Holiday "Tapenade", this pays extremely high dividends for minimal effort. The flavour and textural combination is stellar! It's mostly savoury with hints of sweet, and that creamy dill sauce is a natural pairing with salmon. Finally the Holiday Tapenade topping just sings of festivities!
Present the salmon whole on a platter, like pictured above, so everyone can admire how pretty it looks.
Then you can either cut it into portions – literally just use a knife to cut it – or let everyone help themselves. I find it easiest to use a cake server for actually lifting slices to serve easily, so you might like to also provide something like this if you're allowing guests to serve themselves.
Ingredients:
SALMON:
1.2 – 1.5 kg / 2.4 – 3lb salmon side (skin on, bones removed)
2 1/4 tsp salt , cooking/kosher
1 tsp black pepper
HONEY BUTTER GLAZE:
150g / 5oz butter , unsalted
1/2 cup honey
3 garlic cloves , finely minced (garlic press or knife)
CREAMY DILL SAUCE:
1 1/2 cups sour cream , full fat (low fat is too watery)
1/2 cup fresh dill , finely chopped (lightly packed cup)
1/2 eschallot (French onion) , finely grated
1 1/2 tbsp lemon zest
1/2 tsp salt , cooking/kosher
HOLIDAY "TAPENADE":
1 cup dried cranberries
1 cup orange juice
1 cup slivered almonds , toasted
1/3 cup parsley , roughly chopped
1/4 tsp each salt and pepper
1 tbsp extra virgin olive oil
FINISHING:
1 pomegranate , only the seeds
1/4 cup parsley , roughly chopped
3 tbsp lemon juice
2 lemons, extra , cut in 6 pieces each (for serving, don't skip this)