Classic Cherry Pie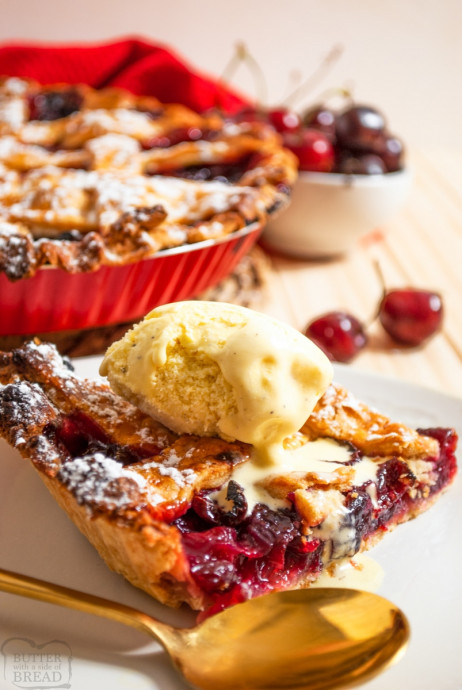 Classic cherry pie made from scratch, with the flakiest homemade crust and a delicious fresh cherry filling. Our buttery pie crust is the best and you can't beat a homemade sweet cherry pie. Serve with vanilla ice cream for the ultimate treat.
To me summer fruits are some of the most delicious fruits from strawberries, cherries, peaches, or apricots to juicy watermelons and melons…you name it. Summer is the perfect moment to bake a good old fruit pie, so today I'm sharing with you my recipe for cherry pie.
In my opinion, a slice of homemade cherry pie, freshly made, with vanilla ice cream is truly a match made in Heaven. You're going to love this easy fresh cherry pie. It's so gosh darn tasty that you may never want to go back to canned pie filling again. And the flaky buttery crust on the outside is a wonderful contribution to offset the sweet and tart filling.
Ingredients:
Pie Crust
3 cups all-purpose flour 14.2 oz
14 tbsp cold unsalted butter cubed (7 oz)
1 teaspoon salt
6 tablespoons icing sugar
2 egg yolks
4-6 tablespoons ice-cold water
Cherry Pie Filling
5 cups fresh or frozen pitted cherries 24 oz
¼ cup cornstarch
2/3 cup sugar 5 oz
1 tsp vanilla extract
1 TBSP freshly squeezed lemon juice
1/4 tsp almond extract
2 pie crusts
2 Egg whites for the egg wash on the crust