Christmas Jello Poke Cake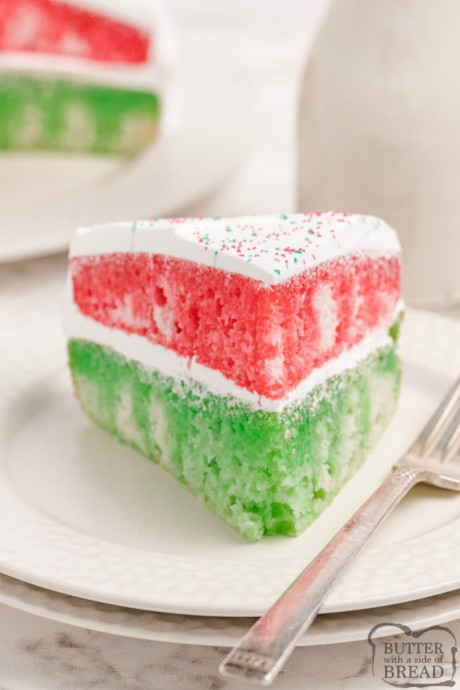 Christmas Jello Poke Cake uses a cake mix and red and green Jello to make a simple and delicious holiday dessert! This Christmas cake recipe is easy to make and absolutely beautiful to serve! Making this jello poke cake is so easy to do, but looks so fancy that no one will ever guess how simple it is to make. Red and green jello make this cake perfect for Christmas, but you can use any colors you want and make this cake for any occasion!
A poke cake is a cake that is poked with the back end of a wooden spoon or tines of a fork before having jello or pudding poured and spread over the top. Topped off with whipped topping and other ingredients a poke cake is easy to assemble, moist, flavorful, and fun to both make and eat. This particular cake uses red and green jello which adds a lot of flavor and makes the cake very festive for Christmas! Refrigerate for at least an hour before serving. (Can add some sprinkles or any type of decoration to the top).
Ingredients:
1 white cake mix baked according to box directions, divided into 2 round pans
2 cups boiling water
1 pkg 4 serving size red Jello
1 pkg 4 serving size green jello (lime)
1 tub 16 ounces Cool Whip, thawed