Baking Time: Coconut Banana Bread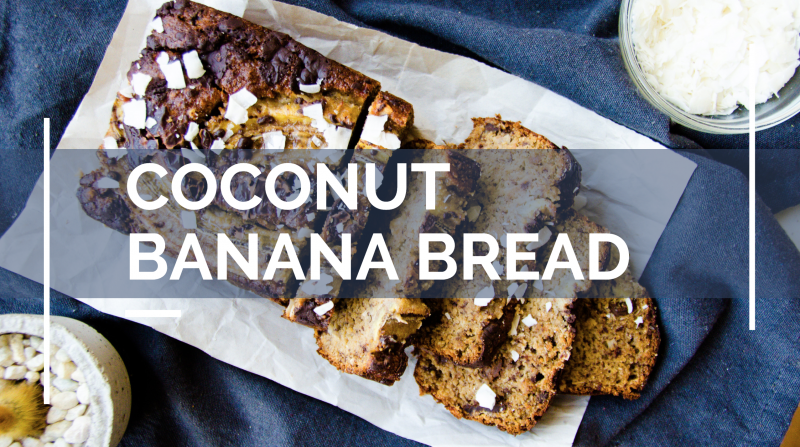 Bananas and coconuts are a natural combination and with added lime this quick bread is a great way to enjoy them. This banana bread recipe is for all of the coconut lovers out there. If you count baking time, this recipe does exceed the thirty-minute time frame. The preparation, however, will only take about twenty minutes. If you choose not to use coconut oil, you could add 1 teaspoon of coconut extract along with the vanilla. The recipe suggests using a standing mixer but you could also use a hand mixer or mix by hand if necessary (I always mix with my hands). A food processor also works for mixing the wet ingredients but try to avoid blending, which may add too much air to the mixture. Lastly, a good zester is key, but decent results can be achieved with the fine side of a cheese grater.
Ingredients
2 cups whole spelt flour or coconut flour
1 teaspoon baking soda
1⁄2 teaspoon sea salt
1⁄2 cup shredded coconut
11⁄2 cups banana, sliced
(or mashed if preparing by hand)
1⁄2 cup coconut or sunflower oil
1 cup Sucanat or ¾ cup brown sugar
1 tablespoon vanilla extract
1⁄4 cup soy yogurt
1 teaspoon raw apple cider vinegar
1 teaspoon lime zest
Glaze (optional)
1⁄4 cup agave nectar
1 tablespoon freshly squeezed lime juice
1 teaspoon lime zest
1⁄2 cup shredded coconut or unsweetened coconut chips
Directions
Step 1
Preheat the oven to 350°F. Lightly oil the baking pans and dust with flour. Sift the spelt flour, baking soda, and salt through a fine-mesh strainer. Add the shredded coconut, whisk it all together, and set aside.
Step 2
In the bowl of a standing mixer with the paddle attachment, start to blend the banana on low speed, changing to medium speed as the banana mashes more. Add the oil, Sucanat or brown sugar, vanilla, yogurt, apple vinegar, and zest, and keep blending for 2 minutes, or until the mixture is uniform and soupy with very few chunks of banana.
Step 3
Reduce the speed to low and slowly add the flour mixture. If using a hand mixer, stir in flour by hand. Blend for 1 minute, or until the dough is blended but still chunky. Do not overmix! It doesn't need to look like pancake batter; chunks are okay. Transfer to the prepared baking pan(s).
Step 4
Bake for 60 minutes for a standard loaf pan or 40 minutes for the mini loaves, or until a toothpick in the center comes out clean and the edges have pulled away from the pan. Remove from the oven and let the pan sit for 10 to 15 minutes before removing the bread and transferring it to a wire rack.
Step 5
For the glaze, combine all the ingredients together and let it sit while the bread bakes. Pour it over the bread after it is transferred from the pan to the wire rack. Try to keep most of the coconut, if using, on the top. It will stick more as the bread continues to cool.
Cooking tips:
Make sure you use bananas that are mostly brown. The over ripe bananas will make the banana bread super sweet and moist.
Some folks insist on letting banana bread sit overnight because its flavor and texture enhance with time. Others cannot wait to tear into it while it is still warm from the oven. Either way, you really can't lose. But be forewarned that the aroma of this bread in the oven stirs the appetite immensely! :)
Variations
Add 1⁄2 cup of your favorite nuts, such as walnuts, macadamia nuts, or toasted almonds (or all of them together!). Cashews are awesome here!
Experiment with different flavors and extracts, such as almond, orange, and lemon.
Try to use orange juice and orange zest instead of lime.
Enjoy a warm thick slice and you will be in heaven! Bon Appetit!