Sausage Rolls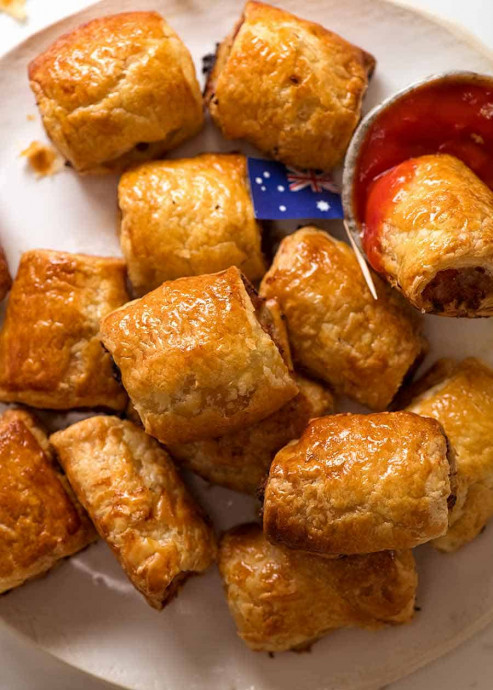 Epic, easy classic homemade sausage rolls recipe that i dare say rivals the famous bourke st bakery, declared by many as the best sausage rolls in australia!
It takes more than store bought sausage mince to make a truly delicious filling. The little but important thing i do that takes this from "yummy" to "omg these are incredible!!" Is to sauté garlic, onion, celery and bacon to mix into pork mince (not store bought sausage meat!).
Here is what makes these sausage rolls so good:
1. Real pork – it's not made with store bought sausage mince which is a mix of questionable ingredients – query how much is actually meat. This starts with pure pork mince. Real meat. Yay! Top tip: no beef. Beef mince is not as juicy or tender, it will make the filling more dry.
2. Bacon – it's not just about adding bacon for the sake of it. The plain fact is that bacon is salty and juicy and when you chop it up finely and mix it through the pork, it makes it so much tastier!
3. Garlic, onion & celery – fact: when you saute these together slowly, they become sweet and form the flavour base of many of the most epic classic recipes in this big wide world. The sweetness and extra flavour it adds to the filling is just incomparable to just mixing in some raw chopped onion into the mince, which is what many standard recipes do. Plus, this adds moisture to the filling without making it watery (which = soggy base); and
4. No grated veggies – i won't tell you not to sneak any veggies in, but what i will caution is that grated veggies are the main culprit for soggy pastry bases, even if you squeeze excess liquid out…..i think there is a time and place for hidden veggies. In my world, that does not include sausage rolls!
Ingredients:
filling
1/2 tbsp olive oil
2 cloves garlic , minced
1 brown onion , small, finely chopped
1 celery stalk , finely chopped
5 oz / 150g bacon , finely minced (streaky and fatty, not the lean stuff!)
2 tsp fennel seeds , toasted (optional) (note 1)
1 lb / 500g pork mince (ground pork) (not lean)
3/4 cup / 40g panko breadcrumbs (note 2)
1 egg
1/2 tsp salt
black pepper
baking & serving
2 1/2 sheets puff pastry , thawed then each cut into half (note 3)
1 egg , lightly whisked
ketchup / tomato sauce