Crispy Smashed Potatoes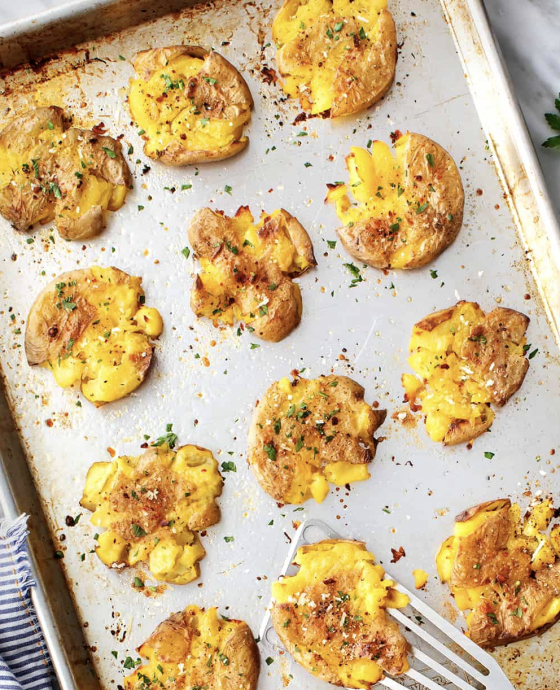 These smashed potatoes are SUCH a tasty side dish or snack! They're crispy on the outside, creamy in the middle, and packed with savory garlic flavor. Crispy smashed potatoes? Two, no, three. …Ok, more like four for me, please!
I'm a huge fan of potato wedges, roasted potatoes, and even French fries, but these crispy smashed potatoes might just be my favorite potatoes yet. They have glorious crispy skins, comforting creamy middles, and a savory garlic-Parmesan flavor that I'm pretty sure no one could ever get enough of.
Conveniently, they're perfect for a wide variety of occasions. Top them with a drizzle of chipotle sauce, and they'd make a mouthwatering game day snack. Sprinkle them with fresh herbs, and they'd be a crowd-pleasing Thanksgiving side dish. The great thing is that you don't have to pick! Once you try this smashed potatoes recipe, you can come back to it time and time again.
Ingredients:
2 pounds small yellow potatoes
2 teaspoons sea salt, divided
2 tablespoons extra-virgin olive oil, more for the pans
1½ teaspoons garlic powder
¾ teaspoon onion powder
Freshly ground black pepper
1 tablespoon finely chopped fresh herbs, (parsley, chives, and/or dill)
Flaky sea salt, optional
Parmesan cheese, optional