Gluten-free: Easy Beet Falafel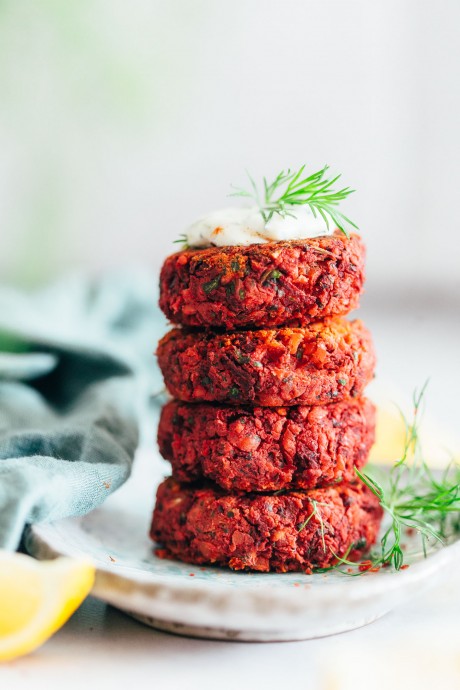 After an intense craving for beet falafel, I felt drawn to the kitchen to play around with a way to infuse this incredibly nourishing vegetable into falafel.
The result was a vibrant-colored, magenta falafel that was garlicky, zesty, crispy, and incredibly delicious. Plus, just 8 ingredients and simple methods required!
The origin of falafel is an ongoing and heated debate. Some would say it's a quintessential Israeli food, while Palestinians claim its Arab roots, and still others claim it originated in Egypt, Lebanon, or Yemen. While we claim no expertise on the origins of falafel, we do know we absolutely love its crispy texture and rich flavor. Falafel is traditionally a fried ball or patty made from fava beans, chickpeas, or both. What's not to love?
For cooking, you have a few options: Bake – this option uses less (or no) oil and is mostly hands-off. Pan Fry – this method is ideal for crispy falafel or if making just a few at a time. Pan Fry, then Bake – for even crispier falafel, you can pan fry them for a crispy exterior and then bake for 5-15 minutes for even firmer / crispier texture.
You can freeze uncooked falafel between layers of parchment paper. Then, when ready, just thaw and cook as instructed. This version uses chickpeas as a base and includes shredded beet for color and added nutrition. It's easy, healthy, delicious, and gluten-free!
Ingredients:
1 15-ounce can chickpeas, rinsed and drained (~1 ½ cups as recipe is written)
1 ½ cups shredded raw beets
4 cloves garlic, skins removed (4 large cloves yield ~2 Tbsp or 12 g)
1 ½ cups loosely packed chopped parsley (some stems okay)
2 tsp ground cumin
1/2 – 3/4 tsp sea salt, plus more to taste
1 Tbsp tahini
1 Tbsp fresh lemon juice
1-3 Tbsp oat flour (or chickpea flour or GF flour) (optional)
1-3 Tbsp avocado or olive oil (for cooking) (optional)
Hummus (or store-bought // for topping) (optional)
Garlic Dill Yogurt Sauce (optional)
Tahini Sauce for Everything (optional)