Baked Spaghetti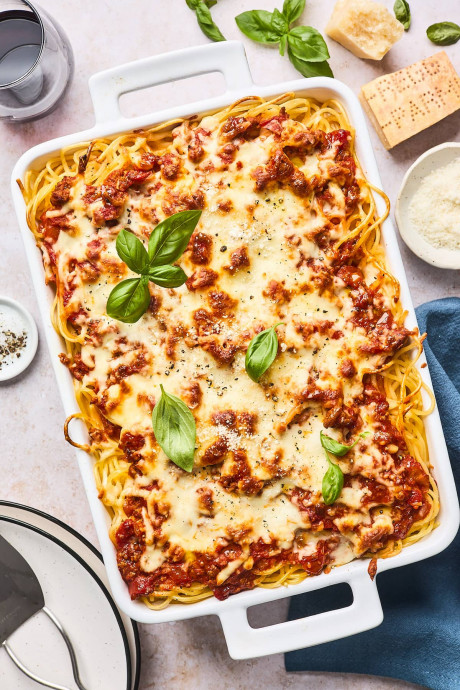 Baked Spaghetti- this hearty baked pasta dish is a family favorite! The spaghetti is layered with a meaty sauce, lots of cheese, and baked until bubbly. Don't forget the garlic bread! Pasta is on our dinner menu almost every single week. We are always mixing it up, but we have our favorites. My boys love Spaghetti and Meatballs, what kid doesn't? They also love Baked Spaghetti, especially when garlic bread is served on the side. It is a regular dinner at our house!
This baked spaghetti recipe is similar to lasagna, but it comes together in a lot less time. Spaghetti noodles are layered with hearty meat sauce, a creamy ricotta mixture, and lots of mozzarella cheese. Bake until the cheese is golden and bubbly.
This is such a cozy and comforting recipe. It makes a great weeknight meal or is a good dinner to serve guests when you are entertaining.
It is also a good meal to take to loved ones who are grieving or just had a baby. It's a classic dinner that everyone loves and it reheats well too. Leftovers are the best!
Ingredients:
1 lb spaghetti
1 lb lean ground beef or Italian sausage
1 tablespoon olive oil
1 yellow onion, chopped
3 cloves garlic, minced
28 ounces marinara sauce
14.5 ounces diced tomatoes
1/2 teaspoon dried basil
1/4 teaspoon dried oregano
1/4 teaspoon crushed red pepper flakes
Kosher salt and black pepper, to taste
1 cup ricotta cheese
1 large egg
1/4 cup grated Parmesan cheese
1 1/2 cups shredded mozzarella cheese, divided
Extra parmesan cheese and fresh basil, for garnish