Slow Braised Italian Beef Stew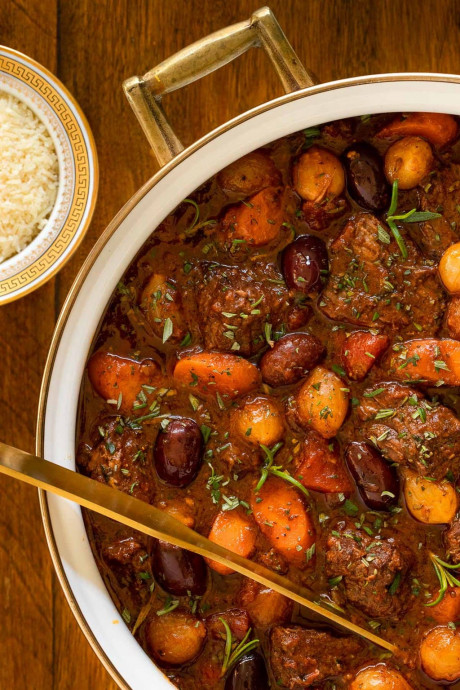 When cold winds blow and the skies are gray and damp, there's something wonderfully appealing about a hearty beefy stew that's been gently roasted to perfection with meltingly tender chunks of beef, a rich wine-based sauce and plenty of fresh vegetables. This Slow Braised Italian Beef Stew starts out with the traditional stew ingredients, but also features a handful of classic Mediterranean ingredients that will make your taste buds feel like they've taken a magic carpet ride to Italy! Are you ready? If you love beef stew, you might want to also check out our Make-Ahead Beef Bourguignon and our Provencal Beef Stew (aka Daube). Both of these stews are French-inspired and were originally peasant fare, meals that could be made with produce from the garden and inexpensive cuts of meat.
I'm guessing that this Italian beef stew had the same humble origins. That's so interesting to me because these days, entrees of beef stew can be found on the menus of the fanciest and most highly acclaimed restaurants. And personally, beef stew is one of my favorite things to serve for winter dinner parties and get-togethers with family and friends.
Ingredients:
2 teaspoons garlic salt
1 teaspoon onion powder
1 teaspoon ground black pepper
3-3½ pounds well-marbled beef chuck roast trimmed of large pieces of fat and cut into 1½-inch pieces
2 tablespoons extra virgin olive oil
1 large onion finely chopped
6 medium cloves garlic finely minced
1 6 ounce can tomato paste
1 tablespoon Italian seasoning
1 tablespoon brown sugar
2 teaspoons anchovy paste
2 tablespoons all-purpose flour
1 ½ cups dry red wine
28 ounces cans fire-roasted tomatoes
1 ½ cups low sodium beef or chicken broth maybe more
2 tablespoons finely chopped fresh rosemary divided
1 tablespoon Worcestershire sauce
2 tablespoons capers drained and rinsed
1 teaspoon kosher salt
8 ounces carrots About 4 medium-large carrots, peeled and cut into ½-inch slices on a diagonal (or 8 ounces of baby carrots).
2 cups pearl onions
¾ cup pitted Kalamata olives