Maple Caramel Carrot Cake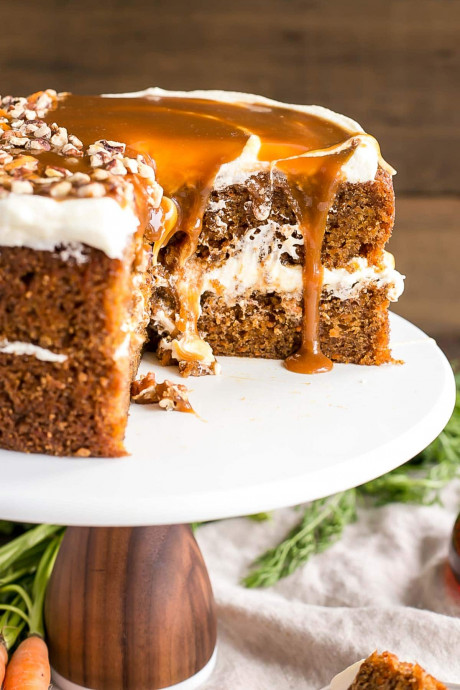 Spiced carrot cake layers infused with maple syrup and topped with maple caramel & cream cheese frosting.
I had so many challenges with this cake that at one point I considered the possibility that the universe didn't want me to make this recipe. Carrot cake is delicious as it is, but something about the combination of the maple and the caramel with the cream cheese frosting is just pure heaven.
There are too many carrot cake recipes out there already (it said), why does the world need another one?! Nevertheless, I'm glad I persevered, because this Maple Caramel Carrot Cake is truly like no other.
If you're looking for something a little different, a twist on something traditional, then this is the cake for you! The cake layers are incredibly moist and the maple caramel has a delicious and unique flavor. It really is my new favorite cake recipe. I hope you like it as much as I do.
Ingredients:
Carrot Cake:
2 cups all-purpose flour
2 tsp baking powder
1/4 tsp baking soda
3/4 tsp salt
1 1/2 tsp ground cinnamon
3/4 tsp ground nutmeg
1/2 tsp ground ginger
pinch ground cloves
1 1/4 cup vegetable oil
1 cup dark brown sugar
1 cup granulated sugar
4 large eggs room temperature
1 1/2 tsp vanilla
3 cups grated carrots lightly packed,approx. 4 large carrots
Maple Caramel:
1 cup pure maple syrup
1/2 cup heavy cream
1 Tbsp unsalted butter
Cream Cheese Frosting:
2/3 cup unsalted butter room temperature
4 oz cream cheese full fat, room temperature
2 cups powdered sugar sifted
1 tsp vanilla
Assembly:
4 Tbsp pure maple syrup
1/4 cup pecans chopped, toasted