Creamy Amaretto Cheesecake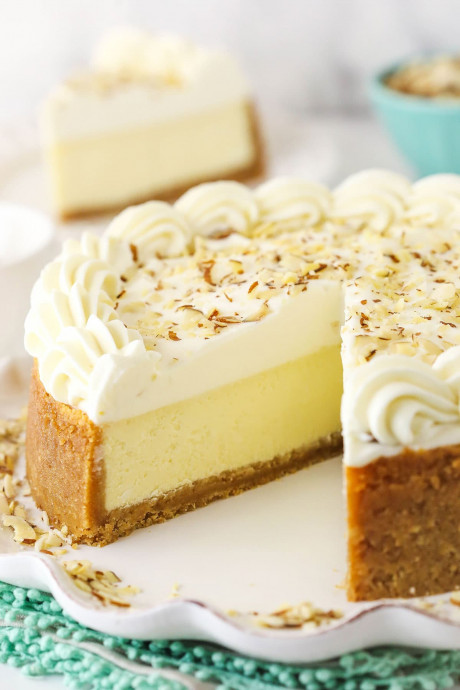 This homemade Amaretto Cheesecake is thick, creamy, and full of Amaretto flavor. It's paired with a vanilla wafer crust, topped with a soft and fluffy mousse, then finished off with a sprinkle of sliced almonds. You won't be able to stop eating it!
Even chocolate lovers won't be able to resist this luxurious dessert. The creamy Amaretto-spiked cheesecake filling, the buttery wafer crust and the fluffy homemade mousse make a seriously heavenly trio. And don't forget the crunchy sliced almonds that top it all off. This cheesecake is wonderful and has become a big favorite!
If you'd like to make a booze-free cheesecake, you have that option as well. The filling and the mousse would both taste great with an amaretto coffee creamer in place of the Amaretto. You just may want to bump the almond extract up to about a tablespoon. Either way, you simply have to try this recipe. The result is pure cheesecake bliss!
Ingredients:
For the Vanilla Wafer Crust
1 1/4 cups (168g) vanilla wafer crumbs
5 tbsp (70g) unsalted butter, melted
5 tbsp (65g) sugar
For the Amaretto Cheesecake Filling
24 oz (678g) cream cheese, room temperature
1 cup (207g) sugar
3 tbsp (24g) all purpose flour
1 cup (230g) sour cream
1 tsp almond extract
5 tbsp (75g) amaretto liqueur
4 large eggs, room temperature
For the Amaretto Mousse
1 cup plus 2 tbsp (270ml) heavy whipping cream, cold
5 tbsp (36g) powdered sugar
3 tbsp (45ml) amaretto liqueur
¼ tsp almond extract
6 ounces (169g) cream cheese, room temperature
Sliced almonds