Kale Mushroom Leek Savory Bread Pudding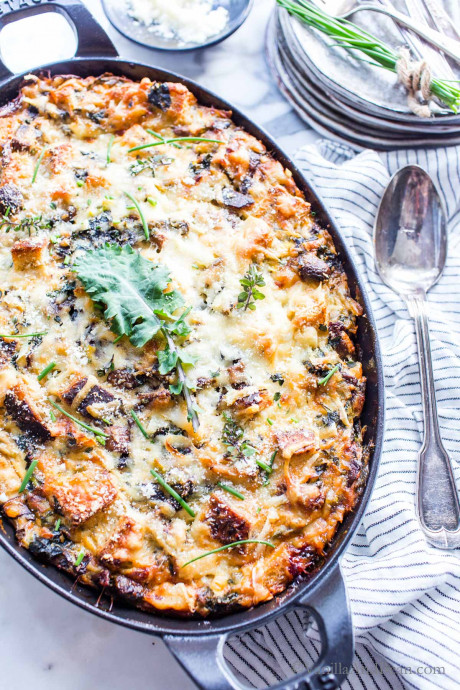 Make ahead for those busy weekend mornings, brunch or special holiday occasions; Vegetarian Savory Bread Pudding with Mushroom, Kale and Leeks makes a hearty breakfast, brunch or dinner and feeds a small crowd. It's make ahead ready too! This recipe is vegetarian.
We all need a breakfast or brunch recipe we can rely on for make ahead easy, especially for holiday gatherings. Ideally a recipe that can be pulled together the day before and baked the next morning. It needs to be hearty, full of flavor, texture and veggie packed.
Savory bread puddings (aka stratas) are known for this and more. They're perfectly suited for the breakfast and brunch table, but also, it stands in easily for dinner. I love making this mushroom bread pudding recipe during the holidays, because it's a family favorite and easy to pull together.
Ingredients:
2 tablespoons Vegetable Oil I use coconut or olive oil
8 cups (810 grams) Kale destemmed and rough chopped into bite size-pieces (about two bunches)
2 1/2 cups (210 grams) Leeks split, cleaned, sliced thin into 1/2 moons (about 1 large leek)
12 ounces (340 grams) Crimini Mushrooms
6 cups (295 grams) Rustic Sourdough Bread cut into bite-sized cubes (about 1/2 a rustic loaf)
2 1/4 cups (240 grams) Gruyere grated*
1 cup (100 grams) Parmesan grated*
2 tablespoons Chives thinly sliced
1 teaspoons Fresh Thyme chopped
6 Large Eggs
2 cups (520 grams) Whole Milk
1 1/2 tablespoons Dijon Mustard
1 teaspoon Sea Salt divided
1 teaspoon Nutmeg
1/2 teaspoon Ground Black Pepper