Vegan Mushroom Bourguignon Pot Pie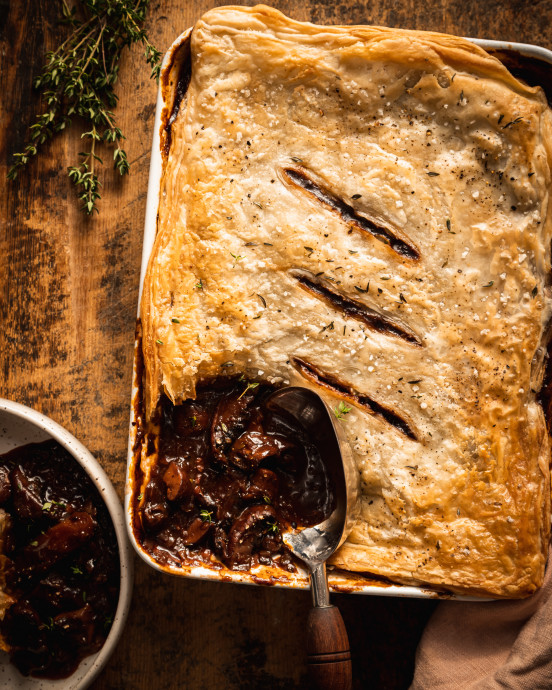 This vegan mushroom bourguignon pot pie is such a flavourful and cozy Winter meal. A rich red wine mushroom stew with garlic and thyme is topped with golden puff pastry. Ready in just under 2 hours, deeply flavourful, and so impressive looking!
This recipe took me a few tries to get right! The results wound up being so worth it though. It's a big, warm, bubbly, golden brown hug in a baking dish. This is a great vegan main for the plant-based skeptics too. The mushrooms are incredibly meaty and rich.
The red wine gives us all the flavour and richness here. I would not recommend trying this recipe if you need to substitute for the wine.
It's really important that the filling goes almost right up to the edge of the dish (like in my photos) so that the pastry doesn't "dip" in the middle of the pot pie. This causes the pastry to not cook evenly/not at all in some spots, so just make sure it's all level.
Ingredients:
1 ½ tablespoons olive oil or vegan butter, divided
6 portobello mushrooms caps, chopped
454 grams (1 lb) cremini mushrooms, caps quartered
sea salt and ground black pepper, to taste
2 cups red wine, divided (such as merlot, cabernet sauvignon, pinot noir)
3 large shallots, small dice (1 cup of diced shallots total)
3 medium carrots, sliced
3 cloves garlic, minced
1 tablespoons fresh thyme leaves, minced
1 teaspoon smoked paprika
2 bay leaves
2 tablespoons tomato paste
1 cup vegetable stock (see notes)
2 tablespoons arrowroot powder
1 tablespoon Tamari soy sauce
1 thawed sheet of vegan puff pastry
flour for dusting
2 tablespoons unsweetened non-dairy milk