Rosemary Pork Roast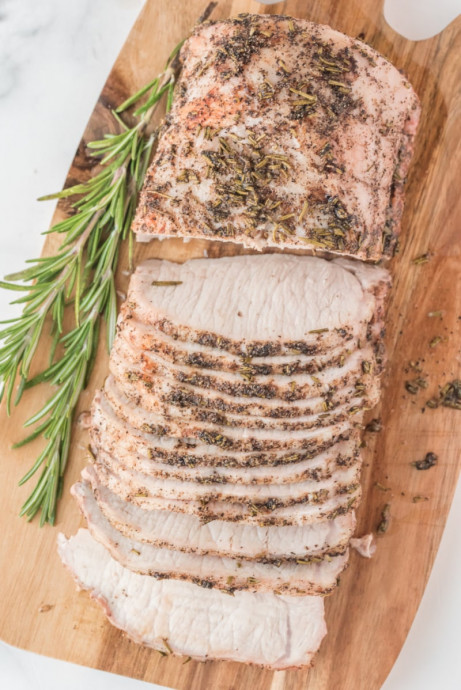 Rosemary Pork Roast is the kind of meal that is perfect for a Sunday dinner.
Place your boneless pork loin in a roasting pan (fat-side-up). In the photos above, this looks like a slow cooker insert. But it's actually just a black roasting pan! Place a meat thermometer in the roast. I love to use my remote meat thermometer! Roast the pork for 30 minutes in the oven at 350 degrees F.
Remove the roast from the oven, and spread the herb mixture over the pork. Return the pork roast to the oven and roast for about an additional 30 minutes. The safe temperature for pork is around 140 to 145 degrees. The temperature will rise a bit more once you take it out of the oven to rest.
When you slice into the roast, juices will accumulate on your cutting board. Be sure to add those juices to your serving tray too. Just drizzle them on top of the roast. Garnish with sprigs of fresh rosemary!
This is a fabulous recipe to make for a family dinner. It's a beautiful rosemary pork roast that should feed plenty of people. Serve it with your favorite side dishes, and everyone will be happy!
Ingredients:
3½ pounds boneless pork loin
1½ tablespoons chopped fresh rosemary (or 2 tablespoons dried rosemary)
2 tablespoons extra virgin olive oil (+ more, as needed)
1 tablespoon freshly ground black pepper
1 tablespoon balsamic vinegar
1 teaspoon kosher salt