Baked Oatmeal with Blueberries and Bananas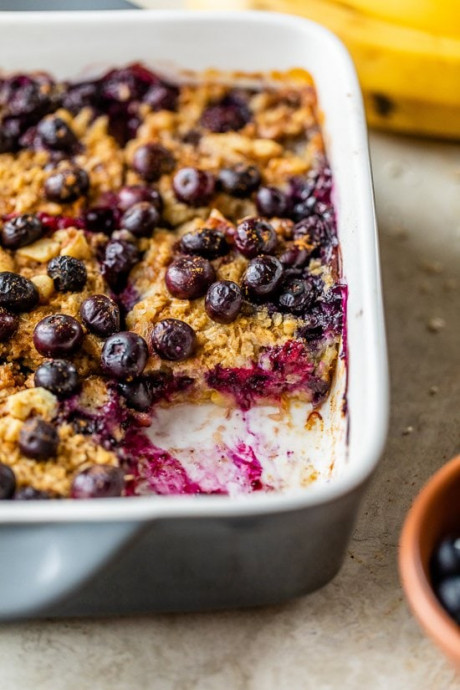 This is the BEST Baked Oatmeal recipe with Blueberries and Bananas. It's perfect to serve guests for breakfast, brunch, or make it ahead for the week for easy meal prep!
This is my favorite oatmeal recipe to make ahead or serve for company! It's also great for the holidays, or you need a potluck breakfast dish. It's a warm, satisfying, heart-healthy breakfast your whole family will love. It feels like you're eating dessert, only it's loaded with fiber.
What I love most about this dish is that it tastes like I am having dessert, for breakfast. In fact, if I am craving a sweet treat, I usually opt for baked oatmeal. I have seen recipes that blend the oats, but to be honest I prefer keeping them in tact, I think the texture is better.
Ingredients:
2 medium ripe bananas, (the riper the better) sliced into 1/2" pieces
1 1/2 cup blueberries
1/4 cup honey, or maple
1 cup uncooked quick or old fashion oats*
1/4 cup chopped walnuts or pecans
1/2 tsp baking powder
3/4 tsp cinnamon
pinch of salt
1 cup fat free milk, or any milk you desire
1 large egg
1 tsp vanilla extract