Caramel Apple Bread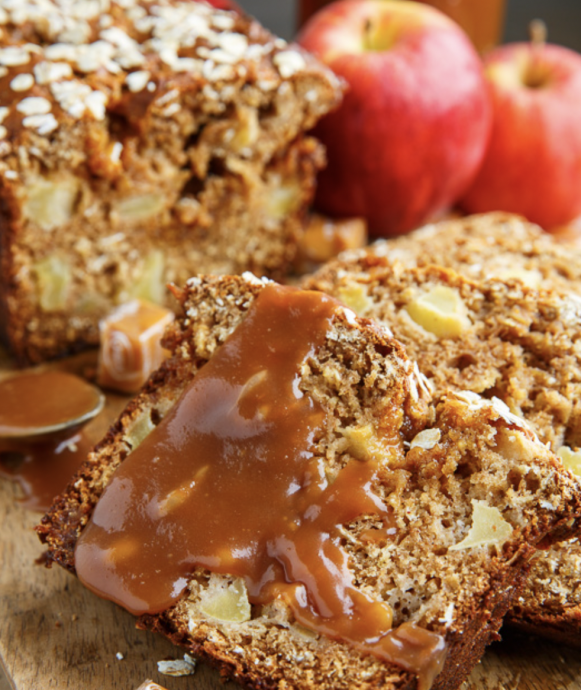 A light, moist and tender apple quick bread with chunks of apple and melted caramel!
Apples are everywhere these days and I always enjoy using them in recipes like this caramel apple bread that is jam packed with chunks of apples and pockets of melted caramel! This is a quick bread so it's super easy to make! You simply mix all of the dry ingredients into the mixture of the wet ingredients, pour the batter into a pan and bake; it's done in less than an hour! Instead of using all regular flour, I like to replace half of it with whole wheat flour and the addition of old fashioned rolled oats adds an amazing texture and flavour to the bread that goes so well with the apples! For the wet ingredients I go with brown sugar for the hint of molasses flavour along with yogurt and apple sauce which helps keep the cake light and moist without so much oil. Of course the star of the show here is the large chunks of apple and the caramels, which melt right into the bread leaving pockets of melted caramel! Yum! This caramel apple bread is amazing all by itself, or slathered with melting butter and some extra caramel sauce certainly doesn't hurt!
Make two loafs on the weekend for quick breakfasts during the week!
Ingredients:
1/2 cup sugar
1/2 cup brown sugar
1/2 cup greek yogurt
1/2 cup apple sauce
1/4 cup vegetable oil
2 eggs
1 cup all-purpose flour
1 cup whole wheat flour
1 cup rolled oats
1 teaspoon baking soda
1 teaspoon baking powder
1/2 teaspoon salt
2 teaspoons ground cinnamon
1/4 teaspoon ground nutmeg
1 1/2 cups apple, peeled and diced
1/2 cup caramels, cut in half (optional)