Cajun Shrimp Fettuccine Alfredo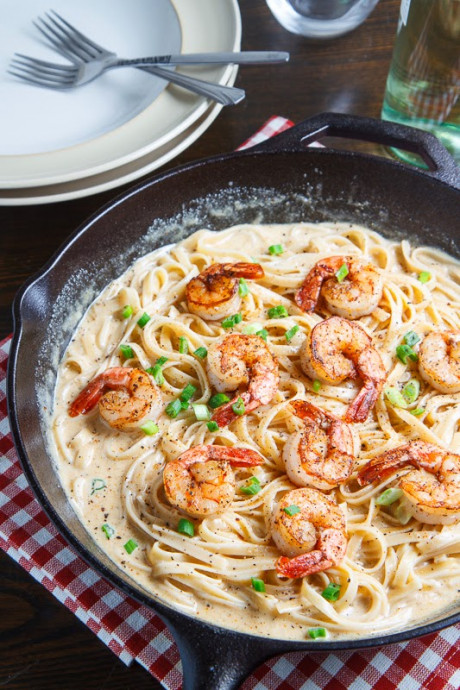 A creamy alfredo fettuccine spiced with cajun seasoning and served with blackened shrimp that makes for a quick and tasty meal for the family that is also sure to impress guests!
This is a quick and easy cajun/creole spiced shrimp fettuccine alfredo. I really cannot express just how quick and easy this dish is, you pretty much just season the shrimp with a cajun seasoning, cook it in a pan, make the alfredo sauce with cream and parmesan and you are done in less time than it takes to cook the pasta. Despite how easy this dish is, it is also super tasty, I mean you really cannot go wrong with alfredo pasta but then you add some cajun seasoned shrimp and thing only get better! This cajun spiced shrimp fettuccine alfredo is a great weeknight meal for the family but it is also sure to impress guests!
Ingredients:
8 ounces fettuccine or your favourite pasta (gluten free for gluten free)
1 tablespoon butter
1 pound shrimp, peeled and deveined
1 tablespoon cajun seasoning
2 cloves garlic, chopped
1/4 cup dry white wine or chicken broth
1 cup heavy/whipping cream
1 cup parmigiano reggiano (parmesan), grated
1/2 tablespoon cajun seasoning or to taste
1/4 cup green onion, sliced (optional)