Leftover mashed potato waffles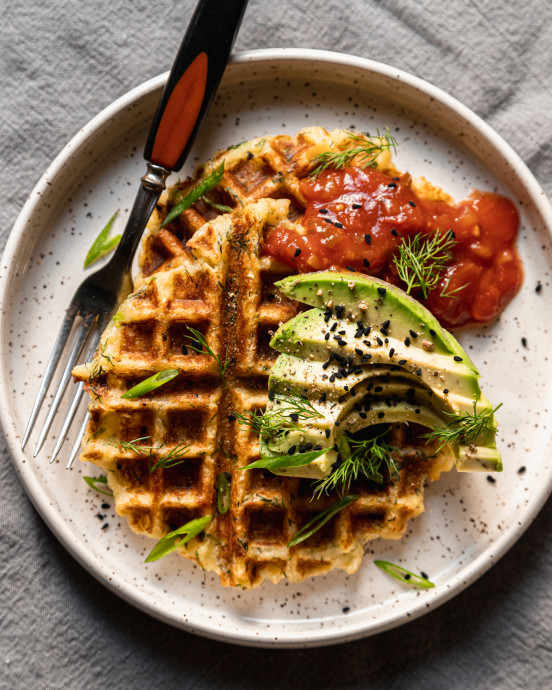 Leftover mashed potato waffles are a satisfying and delicious remix for your holiday leftovers! Seriously flavourful with garlic and onion powders, green onions and herbs. The exterior cooks up golden and crisp while the inside stays tender.
This is such a fun thing to do with leftover mashed potatoes! The high heat on both sides of the waffle iron yields a crisp outer texture that kind of reminds me of a hash brown. The waffle itself is flecked with fresh dill and green onions and flavoured with garlic and onion powders. These waffles taste amazing on their own, but it's fun to load them up. In terms of flour substitutions, I tried a lot of different flours with these and the tapioca flour yielded the crispiest result for me. Light spelt, white whole wheat, white rice, and chickpea flour all worked though and offered great results! The recipe is pretty flexible :)
The cooling rack + baking sheet setup in the warm oven helps to retain the crisp texture of the waffles. These are ideal right out of the waffle iron, but keeping them warm in the oven with the rack is the next best thing.
My mashed potato base for testing this recipe was just Yukon gold potatoes, unsweetened soy milk, vegan butter, salt, and pepper. Depending on how fancy yours are, they may behave differently in this waffle recipe.
If your mashed potatoes contain garlic or roasted garlic, you can omit the garlic and onion powders.
Ingredients:
3 tablespoons tapioca flour
1 teaspoon garlic powder
1 teaspoon onion powder
¼ teaspoon fine sea salt
freshly ground black pepper, to taste
1 tablespoon olive oil
2 tablespoons water
2 green onions, thinly sliced
2 tablespoons chopped fresh dill
2 cups leftover mashed potatoes, at room temperature
oil spray for the waffle iron