Buffalo Chicken Egg Rolls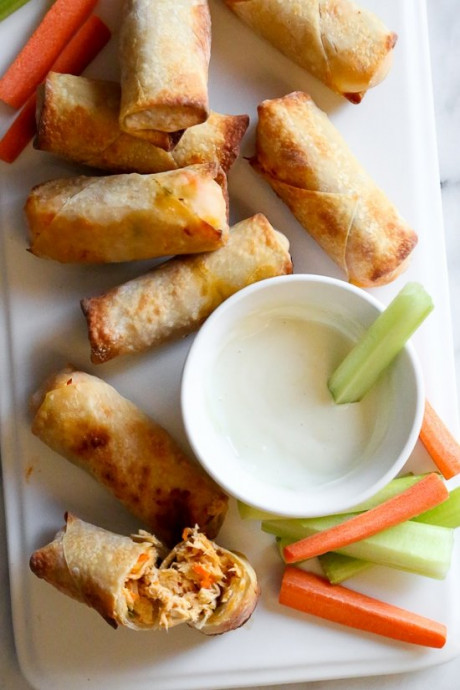 These Buffalo Chicken Egg Rolls, filled with shredded boneless chicken breast, carrots, scallions, hot sauce and blue cheese make the perfect appetizer! Bake them in the oven or air fryer! For the filling, I took inspiration from my Buffalo Chicken Dip and added some cream cheese to the mix to make them creamy, moist and flavorful!
You can freeze leftover egg rolls to keep on hand anytime you need them. For cooked egg rolls, let them come to room temperature before freezing. Wrap them with plastic or foil, or place them in a freezer safe container. To reheat in the air fryer, heat 360F 8 to 10 minutes, until heated through. In the oven, bake 375F until heated through, about 15 to 20 minutes.
Ingredients:
2 16 ounces total boneless skinless chicken breasts
2 ounces 1/3 less fat cream cheese, softened
1/2 cup Franks hot sauce, or whatever hot sauce you like
1/2 cup crumbled blue cheese
1/3 cup shredded carrots, chopped
1/3 cup chopped scallions
16 egg roll wrappers
olive oil spray
Blue Cheese Dressing, optional for dipping