Indian Chicken Kabab (Murg Malai)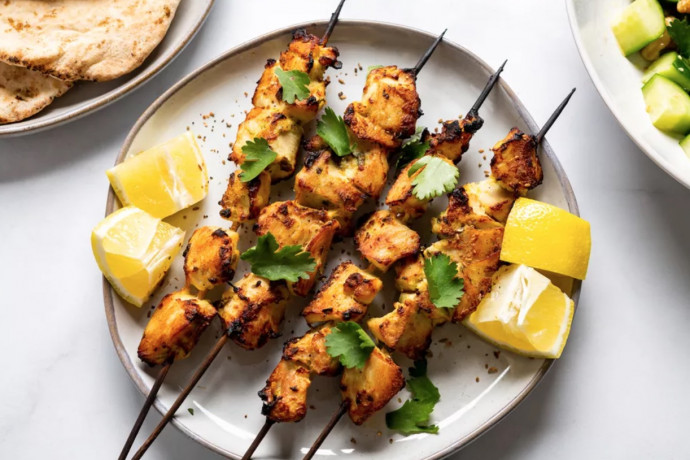 This delicious, melt-in-your-mouth chicken kabab (also known as a kebab or kabob) recipe is known as murg malai kabab in Indian. It's so easy to make you'll wonder why you haven't cooked it before.
If you've got kids, they will love its mild flavors too. You can partly prepare it ahead of time by marinating the chicken in advance. Don't worry if you don't have a barbecue grill because you also can make murg malai kabab in the oven.
Team murg malai kabab with naan flatbread and a salad for a winning meal. It also goes really well with lentils known as kaali daal.
Ingredients:
For the Chicken:
1 pound (500 grams) chicken thighs, bones removed and cut into 2-inch cubes
For the First Marinade:
1/2 teaspoon freshly ground white pepper
1/4 teaspoon cardamom
1 teaspoon salt, or to taste
1 tablespoon garlic paste
2 to 3 teaspoons ginger paste
For the Second Marinade:
1/2 cup grated mild cheddar cheese, or mozzarella cheese
1/2 cup sour cream
Salt, to taste
2 green chiles
1/2 cup fresh coriander leaves
1 tablespoon neutral cooking oil, such as vegetable oil, canola oil, or sunflower oil
To Serve:
1 pinch chaat masala
1 lemon, for garnish