Egg White Frittata Recipe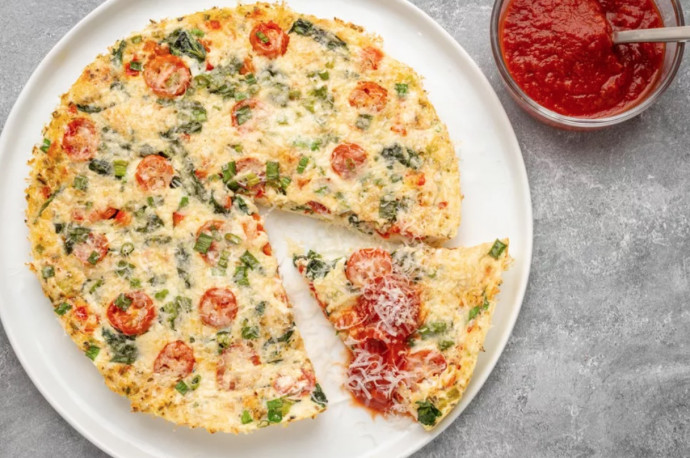 Plenty of vegetables, Parmesan cheese, and seasonings make this light and easy egg white frittata satisfying and delicious. You might think that it would be bland with just egg whites, but even without the yolks, the frittata is fluffy and flavorful. Plus, it is easy to adapt it with your favorite vegetables and seasonings.
As far as the ingredients go, a frittata is similar to an omelet, but there are a few differences. The frittata, which can serve several people, is partially cooked on the stovetop and finished in the oven. An omelet, typically designed for one or two people, is cooked only on the stovetop.
You may make our tasty egg white frittata with fresh or store-bought liquid egg whites. The egg mixture includes Parmesan cheese, green onions, diced bell pepper, spinach, and sliced grape tomatoes, along with a little Italian seasoning. You can swap out the Parmesan with some yellow cheddar for extra color or use Gruyere, Swiss, or another kind of cheese.
This egg white frittata goes exceptionally well with marinara sauce or prepared pizza sauce, or give it that extra pizzazz with a garnish of tomato salsa, sour cream, or sliced avocados. An egg white frittata makes an excellent breakfast, brunch, or lunch dish any day of the week.
Ingredients:
1 1/2 cups egg whites, store-bought liquid egg whites or from about 12 large eggs
1/2 cup grated Parmesan cheese, divided
3/4 teaspoon Italian seasoning
3/4 teaspoon salt
Freshly ground black pepper, to taste
1 1/2 tablespoons unsalted butter
2 medium green onions, sliced, white and light green separated from dark green
1/2 cup diced red bell pepper
2 cups packed coarsely chopped spinach leaves
4 to 6 grape tomatoes, thinly sliced
Marinara sauce, pizza sauce, or salsa, for optional serving