Gluten-Free Breakfast: Rice Flour Banana Pancakes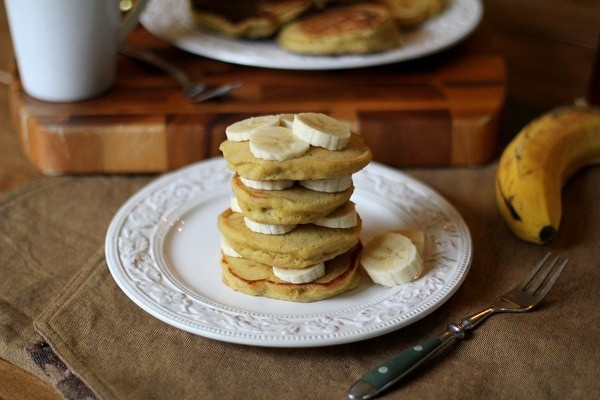 Gluten free rice flour banana pancakes are the perfect weekend pancake breakfast to share with your family.
The cozy scent of pancakes cooking in the morning brings a warm familiarity which is almost just as good as the actual eating part of the pancake experience. Waking up to the smell of pancakes has to be amazing. Nothing can get my kids out of bed faster than the promise of this breakfast.
This recipe is so quick to make, so I can make these on a school day, and still get us out the door on time. Weekday full bellies and smiling faces (the smile on my face is likely coffee related, to be fair). I'll call that a win!
I add a little cinnamon and vanilla extract to mine (and have used a little pumpkin pie spice in these pancakes too). Feel free to leave it out, they're delicious with or without it!
Store, well covered or wrapped in the refrigerator for up to 3 days. You may also freeze banana pancakes – separate each pancake with parchment paper and then place them in a freezer-safe bag and seal.
You can't go wrong with sliced bananas and maple syrup! I'm also partial to a little dusting of powdered sugar and eating them right out of the pan.
Ingredients:
1 1/2 cups brown rice flour
1/2 tsp ground cinnamon
¼ tsp salt
1 tsp baking powder
2 eggs
¾ cup unsweetened almond milk
1 Tbsp avocado oil or oil of choice
1 tsp pure vanilla extract
1 Tbsp pure maple syrup
2 ripe bananas mashed