Thin and Crispy Chocolate Chip Cookies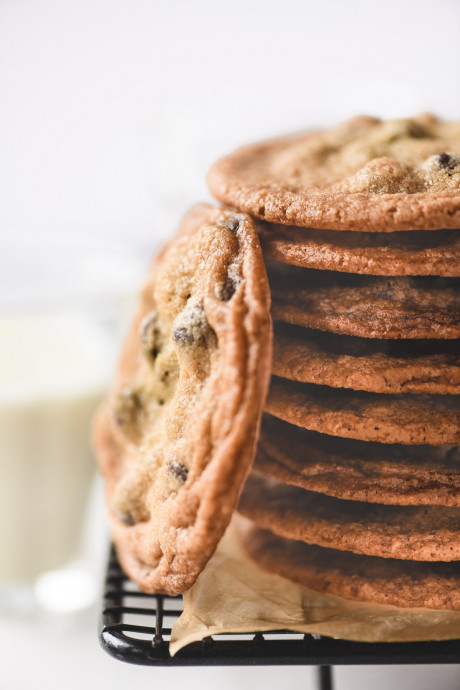 If you love Tate's thin and crispy chocolate chip cookies you're absolutely going to flip for this recipe. The cookies bake up super crisp and buttery, it's nearly impossible to eat just one!
What's your chocolate chip cookie style? Do you love them soft and plush, or are you a classic chocolate chip fan all the way? I think if most of us are honest we'd take them any which way, although thin and crispy is on my radar ever since I casually grabbed a bag of Tate's last week at the supermarket. Thin and crispy cookies rock! They're so light you (almost) don't feel guilty downing an extra one or two.
If you google thin and crispy chocolate chip cookies you should immediately switch to 'image' search, because that's where you'll be able to distinguish the winners from the losers. Pass on anything that looks pale or 'puffed'. Follow the cookies that look flat, golden, and slightly wrinkly around the edges (like these!) That signals the real deal.
Ingredients:
1 cup unsalted butter, room temperature
3/4 cup granulated sugar
3/4 cup light brown sugar, lightly packed
1 3/4 cup all purpose flour Measure your flour carefully, too much flour will result in chewier cookies. First fluff your flour, then scoop it into your measuring cup, then level it off with the back of a knife.
1 tsp salt
1 1/2 tsp baking soda
1/4 tsp ground cinnamon
1 large egg
1 tbsp vanilla extract
1 1/2 cups semi sweet chocolate chips