Chicken Scallopini with Tomatoes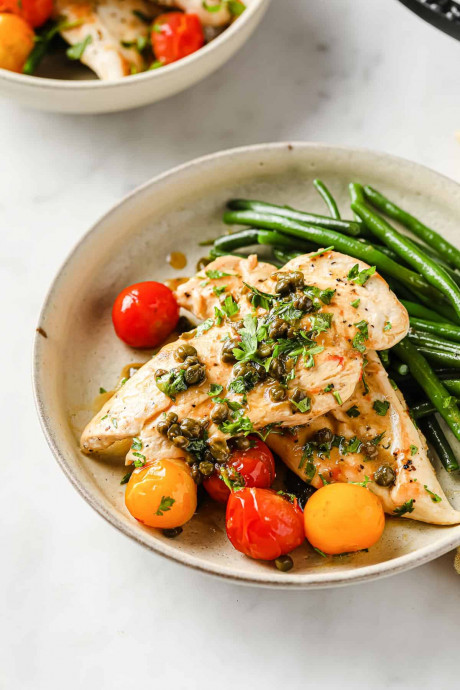 This keto Chicken Scallopini with Tomatoes is the perfect quick and easy one pot meal. Thin, tender chicken cutlets, pan-seared to perfection and cooked in a lemon butter, caper sauce, with blistered tomatoes and fresh parsley. It can be ready and on the table in less than 30 minutes. Store leftovers in the refrigerator for up to 4 days. For a crispy keto chicken cutlet, dip the chicken in egg wash and then coat it liberally with Nut Free Keto Breading Mix. Reheat in the microwave, or stovetop in a skillet.
To make a rich, creamy sauce, add ½ cup of heavy cream to the pan when you add the chicken stock. Then bring to a boil and reduce to simmer and let thicken.
Ingredients:
1 ½ pounds chicken cutlets, or thinly sliced chicken breasts (I get my organic, free-range chicken here)
sea salt and black pepper
1 tablespoon olive oil
3 tablespoons butter
2 tablespoons capers
1 cup chicken stock
2 tablespoons lemon juice
20 mixed color grape or cherry tomatoes
2 tablespoons chopped fresh parsley