Glazed Gingerbread Spritz Cookies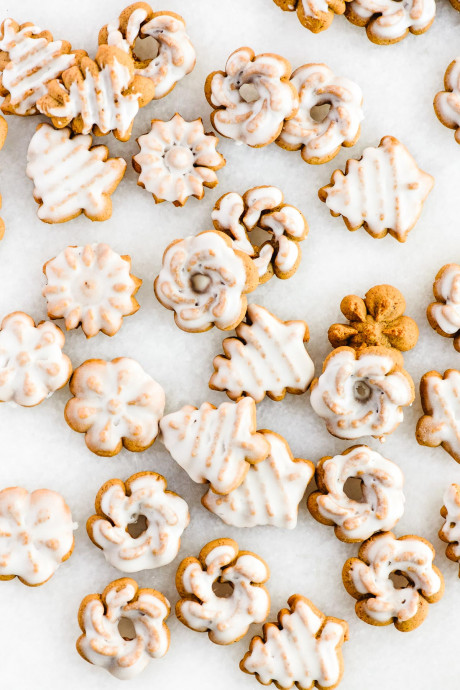 Glazed Gingerbread Spritz Cookies are fun to make and have a lovely old world flavor.
Spritz cookies are crisp little butter cookies that are a Christmas tradition in Germany and Scandinavian countries.
Spritz cookie dough has a soft consistency and is stamped out through a cookie press into fancy shapes, making them super quick and easy. You can stamp out a baking sheet of cookies in no time.
The name Spritz comes from the German 'spritzen', which means to squirt, and it refers to the way the cookie dough is squeezed through the disks in the cookie press. These cookies have a simple charm, they're not fancy or complicated, and one bite tells you all you need to know about why they've became almost synonymous with Christmas. It must have something to do with their diminutive size, their festive shapes and buttery flavor, but probably most of all, how darned easy they are to bang out.
Ingredients:
3 cups all purpose flour
2 1/2 tsp ground ginger
1 1/2 tsp cinnamon
1/2 tsp nutmeg
1/4 tsp ground cloves
1/4 tsp salt
1 cup (2 sticks) unsalted butter, at room temperature
1/2 cup packed brown sugar
1 tsp vanilla extract
1/2 cup molasses (do not use blackstrap)
1 large egg, at room temperature
2 cups confectioner's powdered sugar, sifted
2 Tbsp unsalted butter, melted
1 tsp vanilla extract
2 Tbsp + 2 teaspoons warm water