Dan Dan Zucchini Noodle Soup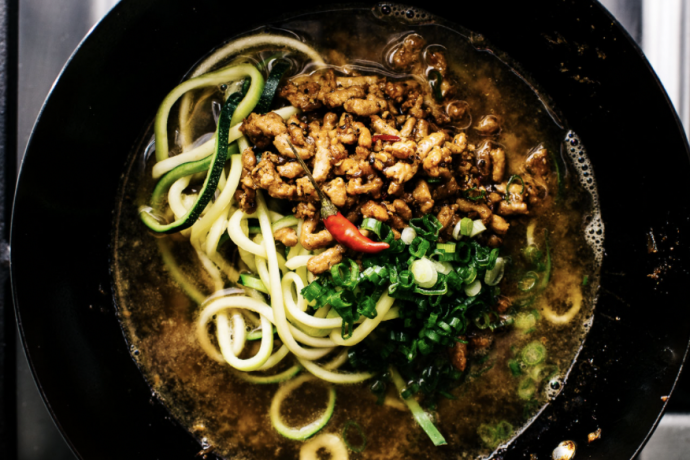 Every time I make zoodles, I turn to Mike and say, "we really should eat more zoodles." I'm a huge zucchini fan, regardless of how it's cooked, but turn them into noodles and I'm a zucchini monster. Zoodles are delicious no matter what, but I think they're especially good in this Japanese inspired take on dan dan noodles. The inspiration for this dish is dan dan noodles, or dan dan mein. It's an Sichuan noodle dish, full of pickled vegetables, spicy chili oil, and minced pork. It's a popular dish in Japan, but there they interpret it more as a ramen noodle soup: chewy wheat noodles swim in a pork soup base seasoned with spicy bean sauce and a heavy hit of sesame paste.
Most noodle soups take a long time to make, but this one is practically instant – dare I say faster than cooking up a pack of instant ramen? It takes a bit of effort to source the ingredients, especially the chili bean sauce and sesame paste, but once you have them in your pantry, you've got the makings of many many bowls of spicy soup noodles.
Ingredients:
4 cups of chicken stock
2 tablespoons chili bean sauce
2 tablespoons sesame paste
1 tablespoon soy sauce
1 tablespoon sugar
salt and freshly ground pepper to taste
Crispy Pork Topping
1 teaspoon vegetable oil
1 tablespoon minced garlic
1 tablespoon minced shallots
1 sliced thai red chili
1/2 lb ground pork
1 tablespoon soy sauce
1 teaspoon sesame oil
salt and pepper to taste
Noodle Bowl
1-2 small zucchinis, spiralized using blade C or 2 servings of your favorite noodles
sliced green onions for garnish