Pumpkin Crumble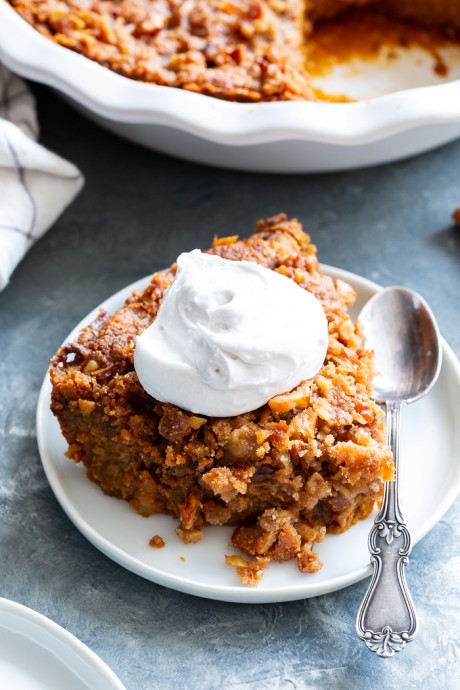 Are you looking for a hearty and healthy recipe that'll warm up everyone's tums? This satisfying, family-friendly recipe is perfect both as breakfast or a stand-alone dessert.
This Pumpkin Crumble has all the delicious flavors of pumpkin pie but it's so much easier to make! A creamy pumpkin layer is topped with a crunchy toasty grain free crumble and baked until golden brown. Perfect for any holiday table and delicious with a dollop of whipped cream! Paleo, gluten-free. Like a pumpkin pie without the work of making a crust – it has so much going for it.
A creamy pumpkin pie custard layer topped with a crunchy toasty sweet crumble layer. Plus that big dollop of (coconut) whipped cream that takes every dessert to the next level! The ingredients are oh so simple but make an oh so tasty perfect fall dessert recipe.
It's best served at room temperature, although you can get away with serving this one a little bit warm – it will still hold together.
Ingredients:
2 1/2 cups pumpkin puree
1 cup coconut milk full fat, blended if necessary
1/4 cup tapioca flour
1 cup maple sugar or coconut sugar
2 tsp pure vanilla extract
1 Tbsp pumpkin pie spice
2 tsp cinnamon
1/2 tsp salt
3 large eggs room temperature
1/4 cup ghee or grass-fed butter, solid
6 Tbsp maple sugar or coconut sugar
2/3 cup blanched almond flour
1 tsp cinnamon
1/4 tsp fine grain sea salt
1 cup chopped nuts of choice walnuts or pecans work well