Tuscan Chicken in Parmesan Cream Sauce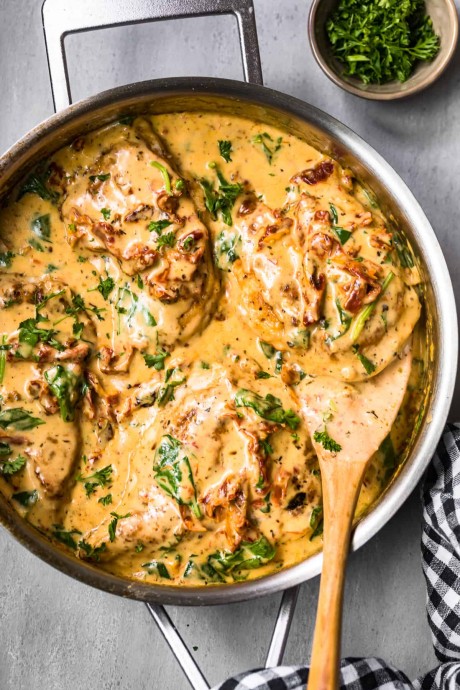 Succulent Tuscan Chicken in a dreamy, creamy Parmesan sauce. This delightful dish is packed with spinach, sun-dried tomatoes, garlic and loaded with flavor! This buttery parmesan cream sauce is so amazing, you'll be making this time and time again. Seasoned chicken breasts in a the most divine Parmesan cream sauce, it all comes together in 30 mins but it won't last nearly that long on the plate!
Why you'll love this Tuscan Chicken? Deliciously seasoned chicken. Pounded chicken breasts, coated in Italian seasoning and parmesan – succulent and loaded with flavor.
A dreamy creamy chicken sauce. This sauce is buttery, velvety and packed with goodies! Sundried tomatoes nestle with vibrant spinach in a sauce made thick and rich by the Danish Creamery European Style Butter – pure heaven.
This recipe is really easy. This dish looks so gorgeous you wouldn't think it's such a breeze to whip up, but it is! Easy to prep and goes from pantry to table in 30 mins. Plus it's all cooked up in one skillet. A gold star weeknight dinner!
Ingredients:
4 large chicken breasts lightly pounded to even thickness
1 teaspoon Italian Seasoning
Salt and pepper
4 tablespoons flour
3 tablespoons parmesan cheese hand shredded or grated
2 tablespoons Danish Creamery European Style Butter
For the sauce:
¼ cup Danish Creamery European Style Butter
4 garlic cloves minced
8.5 ounces sun-dried tomatoes drained and rinsed
1 tablespoon flour
½ cup heavy cream
1 cup low sodium chicken broth
½ cup parmesan cheese grated or hand shredded
1 teaspoon Italian seasoning
¼ teaspoon black pepper
1 cup baby spinach chopped
Fresh parsley for garnish