Corned Beef Hash Breakfast Skillet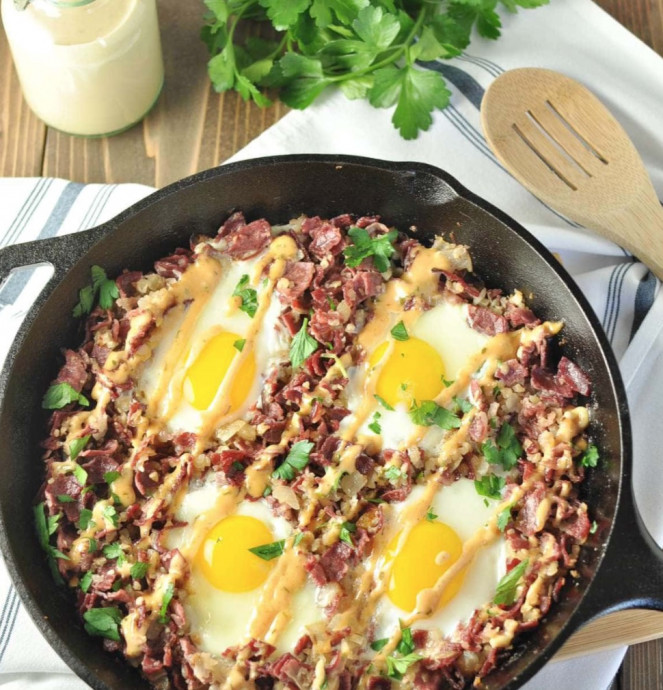 This Corned Beef Hash Breakfast Skillet is the perfect way to start to every day. A balanced breakfast of corned beef, cauliflower hash, and pastured eggs, all perfectly seasoned. Corned beef is one of my husband Jon's favorite foods. He was lingering in the kitchen while this recipe was cooking. He couldn't wait to sink his fork into it. 4 servings quickly turned into one large serving and two more standard servings. I would say that is a husband stamp of approval. If you are not a fan of over-easy eggs, simply cook them a little longer. You can even cook them any way you like, in a separate pan, and then just slap them on top.
Corned beef is a very salty meat. Added salt is definitely not needed in this recipe. The sweetness of the Russian dressing pairs perfectly with the salty nature of the meat. If you ask me, this meal is perfect for breakfast, lunch or dinner!
Ingredients:
2 tbsp olive oil
1 medium onion, diced
3 cloves garlic, minced
2 cups riced cauliflower
1 lb corned beef, diced
4 large pastured eggs
2 tbsp Italian flat leaf parsley, rough chopped
¼ cup Russian Dressing