Sweet & Creamy Strawberry Smoothie – Tastes Like Cheesecake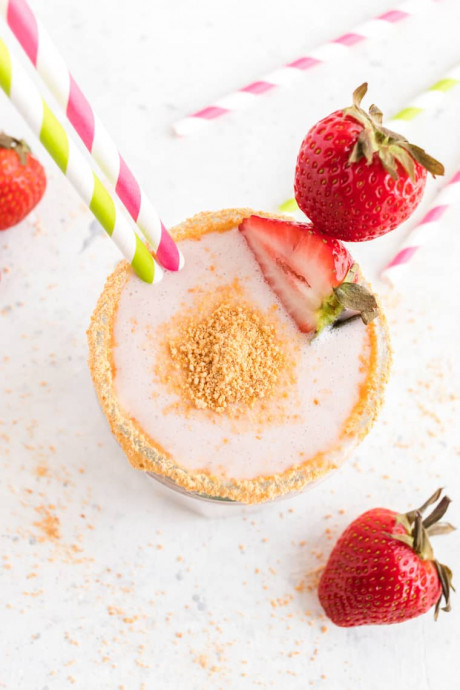 An easy Strawberry Cheesecake Smoothie recipe turns a favorite dessert into a healthy treat you can enjoy any time of the day. So creamy and delicious with only 5 ingredients!
Yes, you can make your basic strawberry smoothie taste like a rich and dreamy slice of cheesecake just by adding some cream cheese. It adds that perfect amount of tangy flavor to balance the sweetness.
And while we all need to treat ourselves something as decadent as cheesecake every once in awhile, this recipe actually makes it good-for-you to indulge as often as you like. While you can just stop right there, stick in a straw, and enjoy if you really want to feel like you are treating yourself to something special, why not dress it up a bit? Before pouring the smoothie into a glass, coat the rim in a bit of honey. Then roll it in crushed graham cracker crumbs.
For a gluten free option, you can always buy or make gluten free graham crackers, but you can also use almond meal or finely chopped nuts.
Top it with a bit of whipped cream.
Skewer or float some fresh strawberries or strawberry slices on top.
Sprinkle it with a little more graham cracker crumbs, almond meal, or nuts.
You can even up the superfood factor by using chia seeds, ground flax seeds, or hemp seeds.
Ingredients:
A couple of handfuls of spinach (optional)
1 cup unsweetened almond milk or your dairy or non-dairy milk of choice
1/2 cup vanilla or plain Greek yogurt or cottage cheese (if you use plain yogurt or cottage cheese, you may want to add ½ teaspoon vanilla and a couple of teaspoons sugar, honey, or your sweetener of choice, to taste)
2 Tablespoons cream cheese (1 oz.), you can use light cream cheese
1 cup frozen strawberries
1/2 very ripe banana , frozen
Optional crushed graham crackers or finely chopped almonds or almond meal , sliced strawberries, or whipped cream for garnish