Taiwanese Meat Sauce and Rice Recipe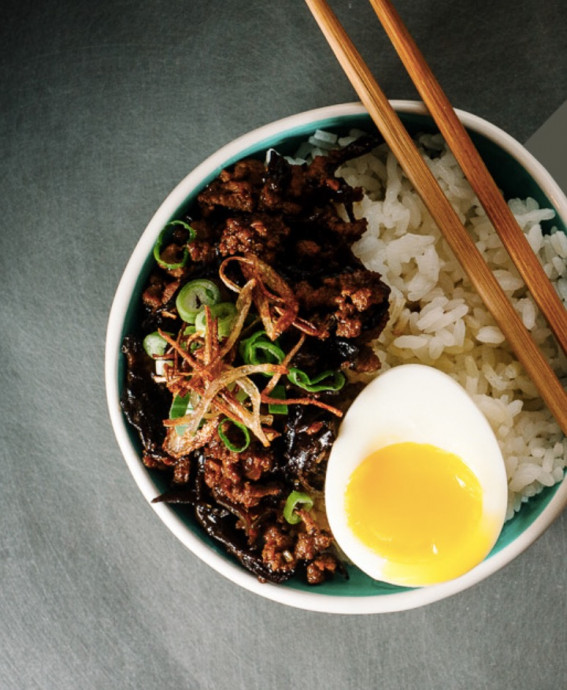 Do you guys ever miss high school? Let me clarify – I don't mean the school part of it, or the cliques or classes, I just mean the after school snacks. Man, after school snacks were the bomb. Snacks were, by far, the best part of a weekday. Sometimes my snack situation would be something simple like a giant bag of cheetos (I miss my teenage metabolism and penchant for crunchy styrofoam-y cheese snacks), sometimes it'd be a pack of instant noodles, but by far, the best after school snack was my mom's meat sauce.
Chinese meat sauce is the equivalent of bolognese or ragù. Essentially, it's a super savoury meat sauce flavoured with soy instead of tomatoes. Both soy and tomatoes are high on the umami scale, so it seems to me to be a pretty even swap. Like ragù, Chinese meat sauce (or lǔ ròu or minced pork or braised pork) is fairly salty on its own and is meant to be eaten with rice or noodles.
Ingredients:
2 teaspoons oil
3 cloves garlic, minced
1/2 onion or 1 small shallot, diced
1/2 pound lean ground pork
1/2 cup rehydrated wood ear mushrooms, chopped
1/4 cup sweet soy sauce
2 tablespoons Chinese black vinegar
1/4 teaspoon Szechuan peppercorn powder
1/4 teaspoon crushed fennel seeds
1/4 teaspoon cinnamon
freshly ground pepper, to taste
Crispy Shallots
1-2 medium shallots, sliced
2 1/2 tablespoons neutral oil (not olive)
To Serve
fluffy white rice or grain of choice
soft boiled eggs, if desired
sliced green onions, to garnish
crispy shallots, to garnish