Broccoli Stilton Soup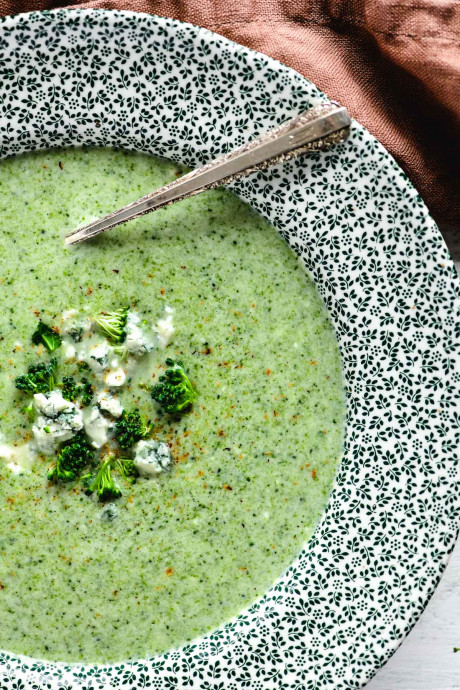 Broccoli Stilton Soup is a luxurious but easy classic British soup, traditionally made with leftover holiday Stilton. It's a comforting weeknight meal ready in about 30 minutes ~ pair it with some crusty bread and cultured butter for a mid winter feast.
The first time I had this soup was in a cozy pub outside of London on a rare snowy night in January and it was just magical. It's got a similar feel to my mushroom and Brie soup, since they're both creamed veggie soups enriched with luxury cheeses. In both cases I was surprised at how well the cheeses melt beautifully into a silky soup. Both Brie and blue cheese are strong flavors, but they mellow out in the soups, so don't be afraid of this recipe! If you love broccoli cheese soup, you'll flip for this.
This cream of broccoli soup is traditionally made with leftover holiday Stilton, and so has a special occasion vibe going on, but truly, this soup is a treat any time. If you're focused, it only takes about 30 minutes and the results are spectacular. Have a crusty loaf and some butter ready to round out this wonderful meal.
Ingredients:
1 1/2 lbs broccoli, weighed after trimming away most (but not all) of the large stalks
2 Tbsp butter
2 shallots peeled and finely chopped
1 Tbsp dry Sherry (totally optional)
30 ounces (2 cans) chicken stock or vegetable stock
1 cup half and half (you can mix whole milk with cream)
200 grams Stilton or other blue cheese (I used Roth Buttermilk Blue)
garnish
broccoli floret crumbles
blue cheese crumbles
ground nutmeg or black pepper