Crispy Fried Eggplant Rounds (Low Carb, Keto)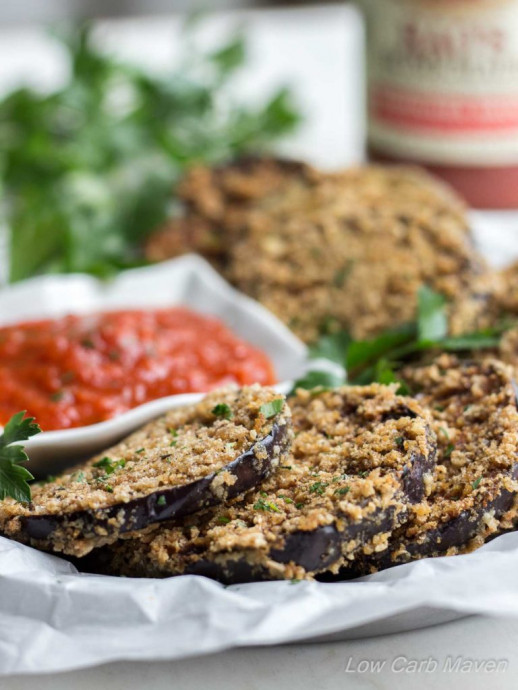 Crispy fried eggplant rounds coated in Parmesan cheese and pork rind breadcrumbs make a fun low carb appetizer or snack when served with Marinara sauce.
I'm typically gifted with zucchini, squash, tomatoes and citrus but this past week I received some eggplant. While I don't often buy eggplant, I do like to cook and eat it in dishes like ratatouille, rollatini, eggplant Parmesan or baba ganuoush.
I served the fried eggplant rounds with store bought Marinara sauce. Jarred pasta sauce can be full of added sugar so read the label. I've found that Rao's Marinara sauce is delicious and has the lowest carb count. For a spicier sauce, try the Arabiatta sauce.
[OVEN METHOD] I have not cooked this particular recipe for crispy eggplant rounds in the oven, but here is what I have done in the past: Heat the oven to 400 degrees F and place a sheet pan(s) in the oven to heat. Prepare eggplant. Spray the sheet pans with oil and place the egg plate on the sheet pans. Bake 10-15 minutes per side or until crisp and golden brown.
Ingredients:
1 pound eggplant (cut crosswise into 1 cm – 1/2 inch rounds, 453.6 g)
1 cup crushed pork rinds (1 oz/ 28.35 g)
1/2 cup grated Parmesan cheese (1 oz/ 28.35 g)
1 teaspoon dried oregano
1 teaspoon dried basil
1/2 teaspoon salt
1/4 teaspoon granulated garlic
1/4 teaspoon onion powder
1/4 teaspoon pepper
2 large eggs, beaten
2 tablespoons olive oil