Sweet Potato Pasta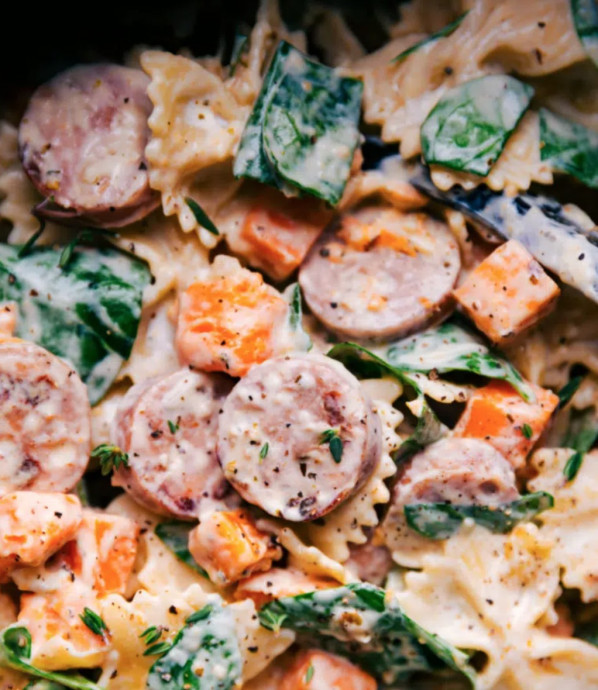 Indulgent Sweet Potato Pasta with roasted and seasoned sweet potatoes, onions, and chicken sausage. The pasta and veggies are tossed in an unforgettable creamy goat cheese sauce and topped with Parmesan.
It's no secret we're completely obsessed with Roasted Sweet Potatoes — and so many of you feel similarly. (That recipe has nearly 5 stars from over 230 reviewers!)
In fact, we love roasted sweet potatoes so much we've thrown them in these Kidney Bean Bowls, Roasted Sweet Potato Salad, and these popular Sweet Potato Burrito Bowls. So why not add them to a creamy pasta dish?! And I'm so glad I did because this might be my personal favorite pasta dish ever (although it does have some good competition with this Sausage Rigatoni!!)
One reason so many people love it is because the base is made primarily with goat cheese. I'm a huge goat cheese fan and the more ways to eat it, the better. That said, if you don't love goat cheese, you probably won't be the biggest fan of this recipe. Instead, I'd recommend trying this Butternut Squash Pasta and swapping the squash for sweet potatoes.
Beyond the goat cheese, there is a little cream to balance out the sauce and veggies to bulk out this dish and amp up the nutrition — onions, garlic, and spinach! For additional protein, we throw in some roasted chicken sausage, and not only is it a great textural add, but the flavors are also such a great complement to the pasta and sweet potatoes!
Ingredients:
1 pound sweet potatoes
1 yellow onion
2-4 garlic cloves
2 teaspoons Italian seasoning
3 tablespoons olive oil, separated
12 oz. chicken sausage, cut into coins
Salt and freshly cracked pepper
1 package (12 oz.) farfalle pasta plus 2 cups pasta cooking water
6 oz. goat cheese
1/2 cup (60g) heavy cream
1/3 cup (26g) finely grated Parmesan
2 cups (64g) baby spinach, coarsely chopped
Optional toppings: 1 cup fresh basil, ribboned, toasted coarsely chopped pecans