Cheesy Potato Skins With Vegetarian Bacon Bits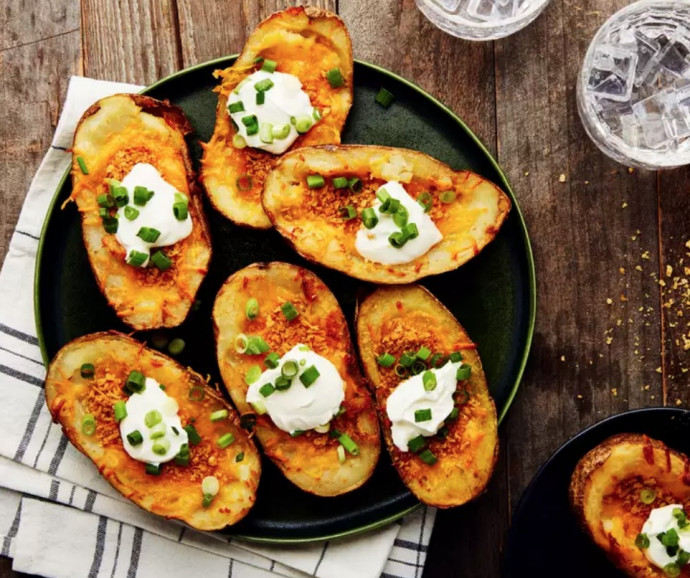 Stuffed potato skins are an easy side to any of your favorite mains, but can also be a stand-alone vegetarian dish that goes beautifully with a salad or a bowl of soup. Once scooped out, the skins host a generous filling of cheddar and vegetarian bacon bits, go right into the oven for 10 minutes, and come out bubbly, fully ready for a scoop of sour cream and some pungent green onions. For this recipe, you can choose to bake, boil, or microwave the potatoes beforehand, but we find that cooking them in the oven brings the best results as the skins maintain their shape whereas boiling can break them and microwaving can shrink and make them crispy in some spots. This is an easy recipe for a busy household because everyone can chip in with the assembly of the potato skins, but also personalize their own to taste.
In our recipe, the scooped out potato halves are fried before adding the filling, but if you want to try to keep your fat consumption to a minimum there's always the choice of skipping the frying altogether and simply jumping straight into the filling step, or air frying them with just a spray of olive oil in the appliance's basket. However, by frying the skins the texture improves greatly, and the crunch is irresistible, but that doesn't mean that by skipping it you don't get a lot of flavor too. As for the vegetarian bacon bits, there are a lot of choices at the store. Some will be soy-based or have dairy while others might be a hundred percent plant-based.
We use a vegetarian cheese filling, but you can make your own take on our recipe—cooked beef, shredded cooked chicken, tofu, crumbled tempeh, eggs, tuna salad, or anything you can think of can go into a potato skin. If you don't have dietary restrictions regarding animal products, go ahead and use real bacon. No matter the filling you choose, cover in generous amounts of cheese and bake until crispy!
Ingredients
6 medium potatoes, cooked whole
Vegetable oil, for frying
1 cup cheddar cheese, shredded
1/4 cup vegetarian bacon bits
1/4 cup minced scallions
For Topping:
Sour cream, to taste