Superfood Chocolate Coconut Pancakes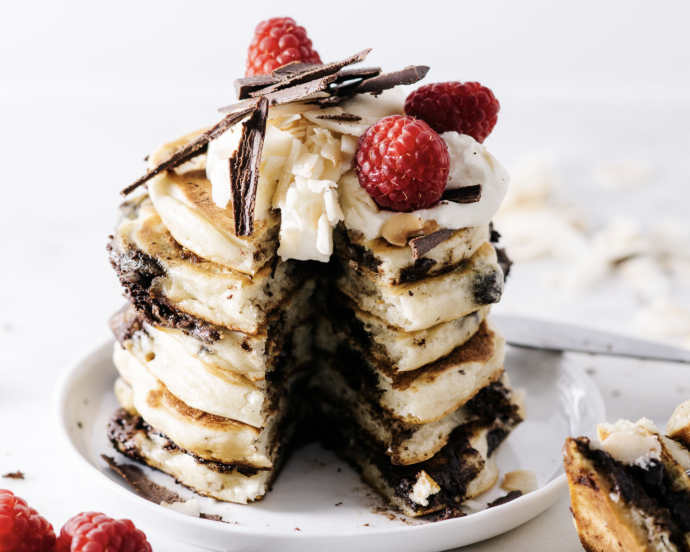 Picture the perfect brunch scene: fluffy pancakes patiently waiting for syrup to rain down. The coffee's hot, the pancakes are golden, the whipping cream is cool, and the syrup is warmed. Your knife slides effortlessly into the tender little rounds and you just know you're in for a treat. To me, there's nothing more decadent than a plate of pancakes, piled high, topped with softly whipped cream. I don't even need syrup, especially if there's fruit and chocolate involved.
Now of course, I love fruit, nuts, and chocolate together. Throw them all into a pancake and I'm in heaven. Technically these pancakes don't have nuts in them (unless you count coconut, which is actually a drupe – those crazy botanists!), but they are mega-delicious, especially due to the super oxidant, superfood-loaded Aloha chocolate I used.
These chocolate-dotted, fluffy pancakes with cool softly whipped cream, crunchy toasted coconut chips, sweet-tart raspberries, and chocolate are absolutely decadent and perfect for a weekend (or weekday) treat! Have a happy Sunday!
Ingredients:
1 cup flour
1 teaspoon baking powder
1 teaspoon baking soda
1 tablespoon sugar
1 large egg
3/4 cups buttermilk
1/4 cup coconut milk
1 tablespoon coconut oil, melted and cooled
1/4 teaspoon coconut extract (optional)
1 Superfood Aloha chocolate bar (or 1/3 cup roughly chopped chocolate)
butter or oil, as needed
Toppings
softly whipped cream
coconut Greek yogurt
toasted coconut
shaved chocolate bits
raspberries