Cheesy Polenta Waffle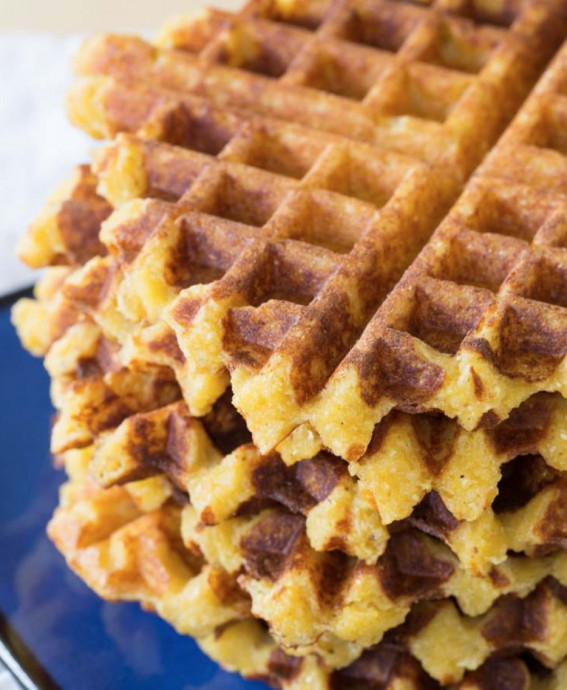 OK, so the Italians and the Southerners may both beat me up for this, but I think these work as Cheesy Polenta Waffles or Cheddar Grits Waffles. They are made form cornmeal, the same way I make polenta, but aren't cornmeal waffles because they aren't cornbread-y. Tradition grits have a slightly different grind than plain old cornmeal (I think), but with the sharp cheddar cheese, they have that cheesy grits flavor. And they definitely work when you top them with barbecue or Cajun-style shrimp (I will share what I did another time). But they would also be great for brunch with a fried egg and some bacon. I'd also love to dunk them in a bowl of chili. They have a toasty, nutty flavor from the cornmeal and browned cheddar cheese. They are crisp on the outside but soft in the middle. It's totally time tochange up your polenta game. Or your grits game. Or your waffle game. Because seriously, guys, these rock.
It's so simple – just whip up a basic batch of polenta, stir in some cheese, and plop it into the waffle iron. You may have to play around with quantity based on your waffle iron. They rise slightly, but not a lot, so you'll need more than the standard waffle. If you add too much, it's harder to get them crisp, but they are still good. You really can't mess it up. And if you have leftovers, they reheat fine in the microwave, but throw them in the oven or taster to get even more of that toasty cheese flavor.
Ingredients:
1 1/2 cups corn meal
3 cups milk
1 tbsp butter
1 cup sharp cheddar cheese grated
1/4 teaspoon salt
1/8 teaspoon pepper
pinch cayenne pepper
1 egg
1/4 cup cornstarch
1/2 Tablespoon baking powder