Roasted Rhubarb Lady's Kiss Cookies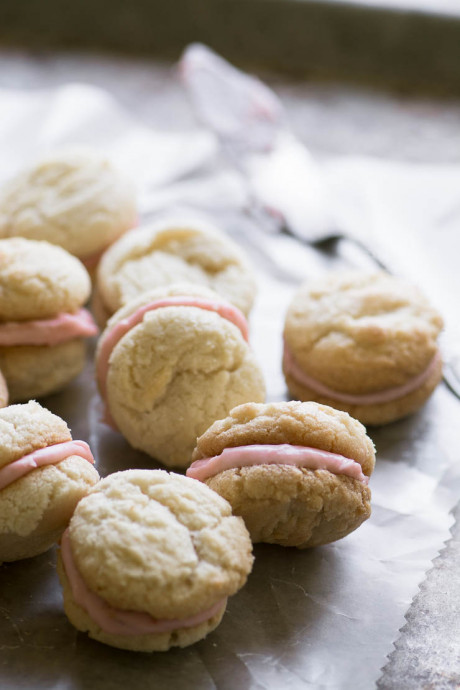 Roasted Rhubarb Lady's Kiss Cookies the roasted rhubarb buttercream is sweet and tangy, and the almond cookies are light as air. I'm pretty sure they serve these cookies in heaven. There's something extra special about a homemade sandwich cookie, isn't there? A few simple extra steps really make a difference, and these delectable little two bite cookies are definitely conversation pieces…I mean, roasted rhubarb buttercream is pretty special, and no one needs to know how easy it was. You'll only need one stalk of rhubarb for the buttercream filling for these cookies.
Pop it in the oven for about 15 minutes to roast, and once it has cooled you can blitz it into a buttercream with a little softened butter, powdered sugar, and a squeeze of lemon. For the cookies I use a small 1 1/4 inch cookie scoop to portion out little balls of dough. The tray goes in the freezer for a few minutes before baking so the cookies bake up nice and puffed and don't spread much. When the cookies have cooled, just drop a dollop of frosting on the flat side of one cookie, and pop another one on top. Then just try to resist.
Ingredients:
rhubarb filling
1 stalk rhubarb trimmed and sliced into 1 inch slices.
1 1/2 Tbsp soft unsalted butter
squeeze of lemon juice
2-3 cups sifted confectioner's sugar
cookies
1/2 cup 1 stick unsalted butter, at room temperature
2/3 cup granulated sugar
1/2 tsp vanilla extract
1/2 tsp almond extract
2/3 cup almond flour
3/4 cup all purpose flour
pinch of salt