Strawberries and Cream Gluten Free Cake Recipe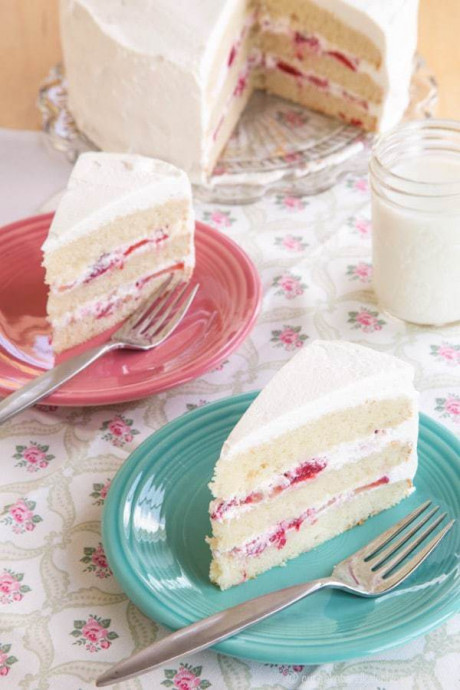 Strawberries and cream is a classic combination and in this gluten free cake it's as beautiful as it is delicious. This Strawberries & Cream Gluten Free Cake has layers of moist and tender cake, juicy strawberry filling and fluffy homemade whipped cream. One of my favorite gluten free cake recipes!
Gluten Free Strawberries and Cream Cake has layers of white cake filled with juicy strawberries and fresh whipped cream. As beautiful as it is delicious, and always a family favorite dessert recipe!"]
This classic dessert is as beautiful as it is delicious. Start with an easy homemade gluten free vanilla cake. Then combine it with layers of the traditional combination of sweet, juicy berries, and homemade whipped cream for a family favorite treat. Since it is such a classic, I knew that everyone, myself included, needed to be able to enjoy this favorite strawberry shortcake-inspired treat as a gluten free dessert.
Ingredients:
For the cake:
2 cups 1:1 Gluten Free All Purpose Flour Blend (recommended: Bob's Red Mill 1-to-1 Gluten Free Baking Flour)
1 teaspoon baking powder
1/2 teaspoon baking soda
1/4 teaspoon salt
1/2 cup (one stick) unsalted butter, at room temperature
1 3/4 cups granulated sugar
4 egg whites, at room temperature
1 teaspoons pure vanilla extract
2/3 cup milk
2/3 cup plain Greek yogurt
For the strawberry filling:
2 cups sliced fresh strawberries
2 teaspoons granulated sugar (or more, depending on how sweet your strawberries are)
For the whipped cream:
1 pint heavy cream, well chilled
¼ cup powdered sugar
1 teaspoon pure vanilla extract