Dulce de Leche Peanut Butter Thumbprint Cookies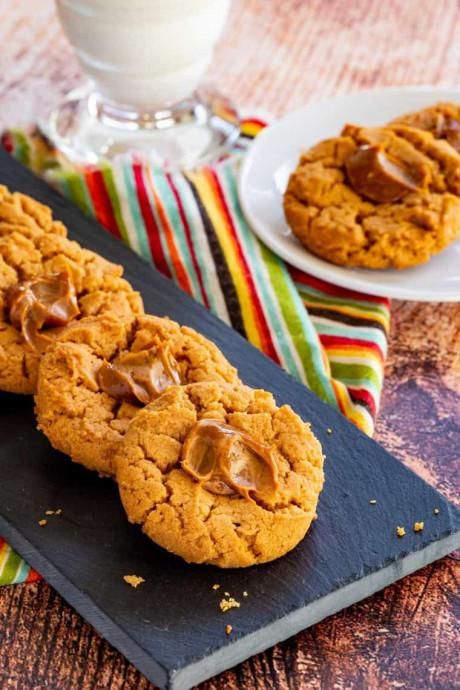 The sweet and salty combination make these Dulce De Leche Cookies totally irresistible. Why? Because instead of a basic cookie, these are flourless peanut butter thumbprint cookies filled with that thick, gooey goodness. Since they have no flour, it's an easy gluten free cookie recipe made right in one bowl!
From chocolate-covered pretzels to candied bacon, there is just something about the combination of sweet and salty flavors that is so hard to resist. That is why this recipe takes your basic dulce de leche cookies to another level.
I'm sure you've seed dulce de leche thumbprints before. They usually start with a basic butter cookie dough that is baked and, while still warm and soft, an indentation is made in the middle. The little well is then filled with a dollop of thick, caramelized deliciousness.
But I said these are going to elevate you ideas about that cookie. You see, instead of a simple shortbread-like cookie, the base is peanut butter cookies. And not just any PB cookie. These are flourless peanut butter cookies. So they have an extra intense salty, roasted, peanutty taste that plays so well with the nutty, rich, sweetness of dulce de leche.
Before we get too far, you may be wondering what dulce de leche even is and how you can get your hands on some.
Ingredients:
½ cup sugar
½ cup dark brown sugar
1 teaspoon baking soda
1 cup creamy natural peanut butter
1 large egg
1 teaspoon vanilla
one can dulce de leche (you'll need about half a cup)