Baked Crack Chicken Breasts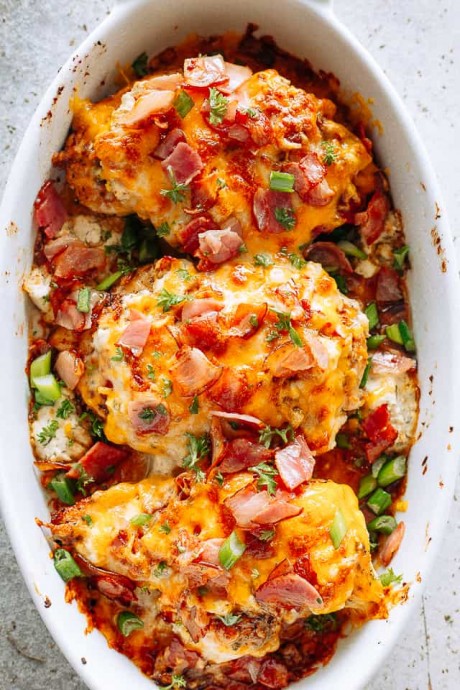 Crack Chicken is a deliciously creamy combination of chicken, bacon, cream cheese, and ranch seasoning. This family-friendly, make-ahead meal is a great weeknight dinner, but also perfect for a weekend crowd.
Baked Crack Chicken Breasts, also referred to as Ranch Chicken with Bacon, is a delicious and creamy dish loaded with cheese and bacon. Hard to believe that Crack Chicken is also Low Carb and Keto-Friendly! All in all, you will need about 30 minutes from start to finish.
To make ahead, simply assemble everything in the baking dish, but don't bake. Cover with plastic wrap and refrigerate for 1 to 2 days. Remove wrap and bake as directed. To freeze, transfer cooled crack chicken to an airtight container. Store in the freezer for up to 3 months.
When ready to serve, remove from freezer the night before and let thaw in the fridge overnight.
Reheat and serve.
Ingredients:
4 slices thick cut bacon, diced
1 tablespoon vegetable oil
1 tablespoon butter
4 (1-pound, total) boneless, skinless chicken breasts, pounded to 1/4-inch thickness
salt and fresh ground pepper, to taste
1/2 teaspoon garlic powder
1/2 teaspoon smoked or sweet paprika
FOR THE RANCH CREAM CHEESE
4- ounces cream cheese, softened
1/4 teaspoon garlic powder
1/4 teaspoon onion powder
1/4 teaspoon dried dill weed
1/2 teaspoon dried chives
4 ounces shredded cheddar cheese, white or yellow - I use a little of both
FOR GARNISH
chopped fresh parsley
sliced green scallions