Maple Walnut Cake with Maple Cream Cheese Frosting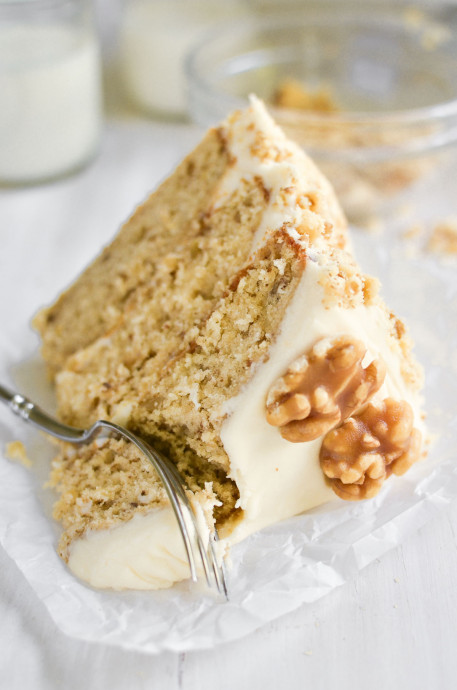 This Maple Walnut Cake with Maple Cream Cheese Frosting is my way of welcoming in the best season of the year…it's 3 layers of fluffy maple cake with an irresistible maple buttercream. If you don't snack on the leftovers for breakfast, you aren't human.
My summer love affair with layer cakes (like this one and this one) has naturally shifted gears and I've got my sights set on all things apple, maple, and pumpkin. I hope you're subscribed to the blog (if not, sign up here!) because there are some incredible recipes coming out this season, it's always been the most inspiring time of year for me.
The sweetness of the maple pairs perfectly with the slight bitterness of the walnuts. And there are so many ways to feature the duo, from maple walnut ice cream and scones, to slice and bake maple walnut shortbread cookies or a warm maple oat smoothie.
Ingredients:
cake
1 cup packed brown sugar
1 cup unsalted butter at room temperature
4 large eggs at room temperature
3/4 cup maple syrup
1 tsp maple extract or vanilla extract
1 Tbsp baking powder
1/2 tsp salt
3 cups cake flour (you can use regular flour)
3/4 cup half and half substitute whole milk or buttermilk
1 cup crushed or finely chopped walnuts
frosting
16 ounces cream cheese at room temperature
1/2 cup unsalted butter at room temperature
1 tsp maple extract or vanilla extract
1/4 tsp salt omit if using salted butter
1/3 cup maple syrup
4-5 cups confectioner's sugar sifted
garnish
18 walnut halves
1 cup finely crushed walnuts