3 Ingredient Healthy Chocolate Chip Oatmeal Cookies (No Flour, Eggs, Or Oil)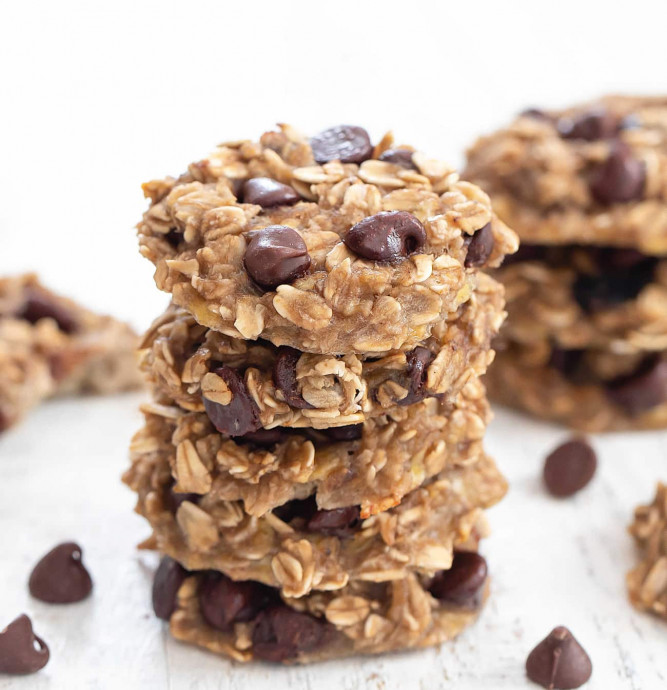 These healthy chocolate chip oatmeal cookies are soft, chewy and sweet. The cookies are made with just 3 ingredients and do not contain any flour, eggs or oil. The dough takes less than 10 minutes to prepare and the cookies are a great snack or dessert.
Bananas: This recipe uses ripe mashed bananas. You will need about 2 large bananas. The bananas act as a natural sweetener and binder.
Rolled Oats: This recipe uses regular rolled oats, also known as old-fashioned oats. You do not need to cook them before using them. The rolled oats give these oatmeal cookies a wonderful chewy texture. You can use quick oats as well, though the texture is less chewy.
Chocolate Chips: I used semi-sweet chocolate chips but any kind of chocolate chips will work. You can also substitute chocolate chips with raisins or other dried fruit.
Ingredients:
1 cup (232 g) mashed bananas approximately 2 large bananas
1 1/4 cups (106 g) rolled oats
1/2 cup (80 g) semi-sweet chocolate chips