Cheesy Chicken Broccoli Rice Casserole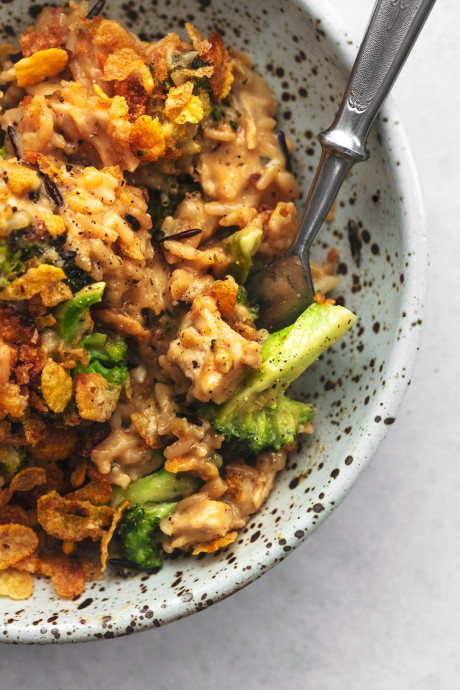 This cheesy chicken and broccoli bake with rice is so creamy, hearty, and cozy, and is seriously one of my all-time favorite meals to make all year round. Plus, it tastes even better the next day – that is, if you have any leftovers!
Corn flakes – Sounds kind of silly now as I write this, but corn flakes really do make this casserole for me. Nothing beats the crunchy, butteriness of the corn flakes with every bite. It's the perfect taste and texture you need in a cheesy chicken and rice bake. All the garlic – Minced garlic and garlic powder? Heck yes! You need it to make the rice garlicky and then you also need the powder to make the cream of chicken soup garlicky. Combine them together and you really get a great tasting casserole.
Makes great leftovers – I mentioned this before, but I really do think that this chicken broccoli rice casserole is even better the next day. I recommend storing it in the pan you baked it in (covered, of course) or carefully adding the casserole to another container trying to keep the buttered corn flakes on top. That way, they won't get soggy and maintain somewhat of that crispiness you loved the first time around.
So easy – Don't let the three step "process" scare you off. It really is so simple to make all the little parts of the chicken broccoli rice casserole and then put them all together in just one hour!
Ingredients:
1 7-ounce box long grain and wild rice
4 tablespoons butter - divided
2 teaspoons minced garlic
½ yellow onion - diced
1 ¼ cup water
1 cup chicken broth
1 cup shredded cheddar cheese
3 cups broccoli florets - see note
4 cups cooked diced chicken - see note
2 cups corn flakes
6 tablespoons butter
3 tablespoons flour
½ teaspoon salt - or to taste
¼ teaspoon cracked black pepper - or to taste
½ teaspoon garlic powder
1 cup chicken broth
1 cup milk