Million Dollar Spaghetti Casserole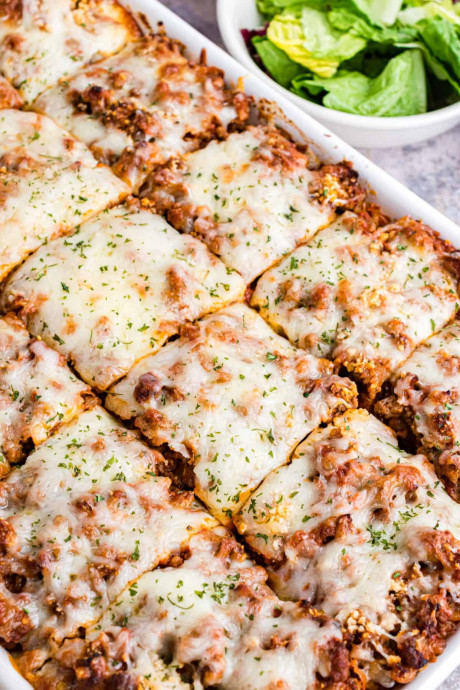 This hearty baked spaghetti casserole is loaded with flavor. Million Dollar Spaghetti is a cheesy, meaty weeknight dinner recipe!
This million dollar casserole gets it's name from the richness and depth of flavor, not for how much it costs to make! If anything it can win you award, it's beloved by everyone I've ever made it for!
Growing up in the midwest, casseroles are a part of our way of life. Meat sauce. For extra flavor, I use a combination of ground beef and Italian sausage, along with garlic, onion, and my favorite marinara sauce.
If you prefer meatless, load up your sauce with green peppers, mushrooms, zucchini, spinach, and/or eggplant! Simmer the vegetables of your choice with your marinara sauce to cook them down and soften the texture.
Pasta. Classic spaghetti noodles is what I choose, but you can opt for the thin spaghetti (like in this Chicken Tetrazzini recipe), or any other style you love…rotini, bowtie, etc.
Cheese. The center layer of cheese is what makes this casserole magical. You'll need cottage cheese, cream cheese, mozzarella cheese, and parmesan cheese! This is similar to how I make my lasagna.
Add sour cream and butter and you've got one heck of a spaghetti casserole!
Ingredients:
1 lb spaghetti noodles
1 lb ground Italian sausage
1 lb ground beef
1 yellow onion, diced
4 cloves garlic, pressed
2 jars (24 oz each) marinara sauce, any variety
1 package (8 oz) cream cheese
1 cup cottage cheese
¼ cup sour cream
3 cups mozzarella cheese, divided
¼ cup grated parmesan cheese
½ cup butter, sliced
parsley, for garnish