Salisbury Steak With Mushroom And Onion Gravy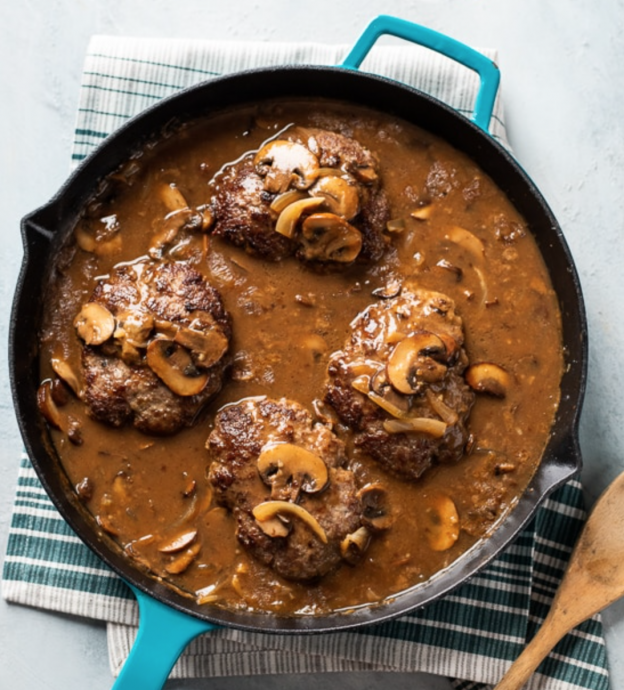 This Salisbury steak recipe with mushroom gravy is amazing for dinner. And what makes this Salisbury steak recipe even more amazing is that there are caramelized onions in the gravy!
The flavor of the onions and the mushrooms caramelizing together makes an ordinary gravy into an outstanding mushroom gravy recipe. That's what makes our When you're craving a hearty meal our easy recipe will definitely satisfy your hunger. It's the perfect comfort food on a cold day or any day that you've worked hard and want to treat yourself to a fulfilling dinner. Families are enjoying this Salisbury steak dinner and getting raves from kids too. It's a great way to get them to eat mushrooms without them even knowing it.
Our classic mushroom gravy recipe has been such a hit that we've added it to so many other dishes: pork chops with mushroom gravy and skillet chicken with mushroom gravy are two of our hugely popular one-pot dishes. Sure there's always those who can't stand mushrooms which is totally ok! You can make this recipe without the mushrooms. Or what if you love onions? Then our onion gravy is absolutely superb and works fantastic with this Salisbury steak recipe. What ever you decide, just make it your own and pretty much any type of gravy will be amazing. The marinade for our Salisbury steak is super flavorful too so you're in for a real treat! easy A perfect dinner recipe for your family during the week!
Ingredients:
For the steak:
1 pound (454 g) ground beef
1/4 cup (30 g) breadcrumbs
1 large (1 ) egg
2 teaspoons (10 ml) Worcestershire sauce
1 teaspoon (5 ml) onion powder
1/2 teaspoon (2.5 ml) garlic salt
1/2 teaspoon (2.5 ml) mustard powder
1/4 teaspoon (1.25 ml) kosher salt
lots fresh ground black pepper , or to taste
1 Tablespoon (15 ml) cooking oil , for searing beef patties
For the Mushroom Gravy
3 tablespoons (30 g) butter
8 ounces (227 g) mushrooms , sliced
1 (1 ) medium onion , sliced
2 cloves (2 cloves) garlic , minced
1/4-1/2 cup (30-60 g) flour , depending on how thick you like your gravy
3 cups (720 ml) broth (beef, chicken or vegetable)
kosher salt or sea salt , or to taste
black pepper to taste