Buffalo Chicken Salad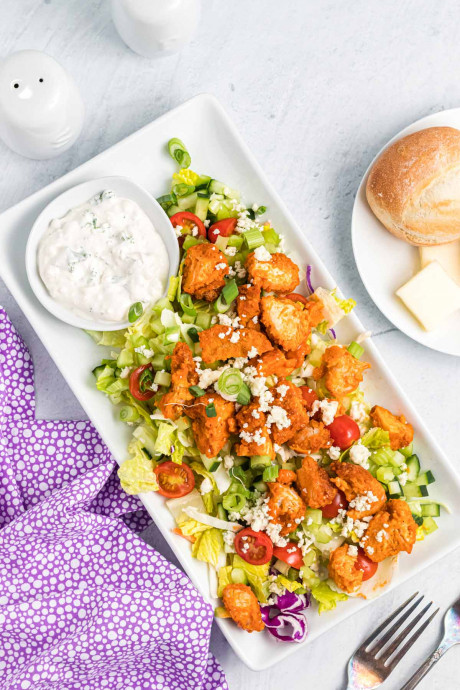 Buffalo Chicken Salad with crispy chicken coated in spicy buffalo sauce tossed with crisp lettuce, cucumber, tomatoes, and celery. Add a creamy blue cheese dressing, and you get a filling salad! Use frozen breaded chicken to make it really easy, and dinner is ready in about 30 minutes.
This buffalo chicken salad is how I like to salad: It has lots of veggies to make it feel "healthy," but the flavor and textures are all about treating yourself. In this case, crispy breaded chicken coated in buffalo sauce with plenty of blue cheese dressing and cheese crumbles to finish it off.
Think of it as a chicken wings platter with a salad make-over. It has it all – the veggie sticks, spicy chicken, and dipping sauce mixed up in a hearty, filling, delicious, comforting salad.
Yes, a comforting salad – there is such a thing and this spicy chicken salad is it. Plus, it's easy! 30ish minutes easy, making it great for weeknight dinners.
Ingredients:
12 ounces frozen breaded chicken tenders
1/2 cup buffalo sauce
1/4 cup sour cream
1/4 cup mayonnaise
1/4 teaspoon onion powder
1/4 teaspoon kosher salt
1/4 teaspoon white pepper
1 tablespoon 2% milk
1 tablespoon chopped parsley
3/4 cup crumbled blue cheese, divided
4 cups chopped romaine lettuce
2 cups coleslaw mix
2 celery ribs, diced
2 green onions, sliced
1 cucumber, diced
10 cherry tomatoes, halved